With the O-week stall, students can join our membership, old members can renew their membership, you can also get information about UNIBUDS events, register for O-picnic, meet up with UNIBUDS friends, buy UNIBUDS T-shirt as well as get free distribution Dhamma book at the stall!
Too busy? No worries! Just drop by and say hi! Any spiritual and moral support are appreciated!
====================================================================================
Are you an existing member?

Do you know that all members have to renew their membership every year? O-week is a good chance to do so! Come to our stall! Bring your new friends and juniors along to join this big family! Let's make UNIBUDS stall as happening as we could!
====================================================================================
Are you interested in UNIBUDS?

Known UNIBUDS but not yet a member? Interested in joining us? Come to our stall! During O-week, you can fill up the membership form and be a member at our stall!
====================================================================================
Are you new to UNIBUDS?

Welcome to UNIBUDS! >To know more about UNIBUDS, come to our stall during 22nd-26th February (O-week) and 1st-5th March 2009(week 1)! Don't miss the chance to get to know UNIBUDS family! You are more than welcome to drop by anytime =D
====================================================================================

We Need You!

The stall needs you to stay alive!

What you can do? Help setting up our stall, packing up our stall, spreading Dhamma, spreading smiles and laughter, introducing UNIBUDS to new students, recommend a books., updating membership, recording mailing lists etc.

Interested? Come and join us at the stall, spread the laughter and joy while introducing the Dhamma to all who approach the stall! It's going to be fun! Of course, there are kamma point to be collected too
O-PICNIC
UNIBUDS Annual Activity
Missing the fun and laughters from the previous UNIBUDS activities? New to UNIBUDS and don't know anyone yet? Want to meet old friends and make new ones? What about just taking a day to relax and chill out before getting blown away by the business of our Uni life? Come and join us in our first event of the year!
Coogee Beach (BBQ pit opposite McDonalds)**
**Venue will be changed to indoors in case of rainy weather. Please register with us so we can notify you of the venue beforehand!
Saturday, 6th March 2009
10.00am - 2.00pm
Busfare
Kai Yi
Patrick
If you don't know the way? Fuss not! Our friendly Venue Guiders will be there to lead you to Coogee Beach by bus. The details to meet are:
| | |
| --- | --- |
| | Squarehouse, Ground level |
| | 8.45am sharp! |
| | Ian |
If you wish to go by yourself, we will see you at Coogee Beach!
As food will be provided, all you need to bring is some sun screen, shades, $2 or a blue travel ten if you are meeting us at the Squarehouse, and of course yourself! In order for us to better cater to everyones' needs, please register with the organizers with your name, contact number, email as well as your preferred transportation option.Or if you want to help out with this event or will like to share a dish or 2, please let us know too!
Let us come together to have fun with food and games! Do not hesitate to contact us if there are further enquires.
UNIBUDS Potluck!
UNIBUDS Activity
My dear friends in the Dhamma! How has the first 3 weeks of uni been? Stressed? Bored? Hungry?
No matter how you are feeling, UNIBUDS has yet another fun and exciting activity coming this weekend!
I'm sure many of you miss the food, fun and laughter from O-picnic right? Did you miss out on O-picnic? Doesn't matter! Then make sure you don't miss this opportunity to come join in and meet up with old friends and make new ones!
This Saturday, UNIBUDS will be having a POTLUCK gathering! Feel free to share your culinary skills or try out the various international tastes of UNIBUDS!
We invite you to the Lodge, Squarehouse for this event! It is time to re-charge with FOOD before continuing with your study!
Looking forward to see you there!
The Lodge, Level 3 of Squarehouse, UNSW
Sunday, 27th March 2010
6.00pm - 10.00pm
Free! Just bring along a dish or two (to share) and of course your empty stomach!
Kelly
Bernard
~ The UNIBUDS Amazing Race ~
Are you up for the challange?
UNIBUDS Event
If you find yourself lost in the middle of nowhere amidst your busy routine, it is good to take a break -slow down, don't force it. Keeping an ongoing Dhamma practice can also help! It does not have to be an intense practice. There are so many different ways of practising and every little bits of practice counts!
The good news is that UNIBUDS has come up with its special April activities! Guess what? This year we are trying to learn and practise the Dhamma with a more active -not to mention physically demanding- approach! We also hope that we can also use this opportunity to build friendship with all the participants -the chance to meet lots of new people.
So.. what sort of event will it be? Some hints: The entire event will be Dhamma related and involve a lot of games/ outdoor activities (sounds fun!), good team work and communication. The big hint is that it's named after the famous adventure TV series: 'The Amazing Race'. So, there'll be lots of hunting for treasures...Yep yep! The Dhamma treasures. Oooppss..can't give away too much details now, but here's a little summary of the event.
Whom to contact? If you are interested in participating in The UNIBUDS Amazing Race, or would like to know more about this event, please do not hesitate to contact Kia Sheng (kiasheng.chew@gmail.com 0450632109) or Niky (tanakaan@gmail.com 0423453249).
There are no specific requirements to participate in this event. Members and non-members; those with and without any knowledge of Buddhism; those who are short and tall, big and small... are equally welcomed!
Come along, bring your friends and register to Kia Sheng or Niky before 4 April! We are looking for your to seeing everyone there!!
Meeting: Outside Main Library
Sunday, 4th April 2010
10.00am - 6.00pm
Meeting time: 9.00am Sharp!
Free! Your body, mind, energy and SMILES!
Kia Sheng
Niky
Loving-Kindness Meditation
Upcoming UNIBUDS Meditation Workshop
Rod Lee
Rod Lee is the director of the Tibetan Buddhist Society. He has been practising Buddhism for nearly 30 years and is currently a very well-spoken and experienced Buddhist teacher. He was a disciple of Venerable Geshe Loden. By adopting light-hearted and entertaining teaching approaches, Rod Lee teaches Buddhism to a varied audience and Buddhist meditation to business people besides teaching Tai Chi and applying Shiatsu massage. He also provides counseling services and special mental therapies from the Buddhist perspectives.
Rod will teach loving-kindness meditation at this workshop on Saturday, 10 April 2010. Loving-kindness meditation helps one cultivate positive emotional states towards ourselves and others, so that we become more patient, kind, accepting, and compassionate. The practice, leading as it does to the realization of compassion, is central to Buddhism, to the extent that the Dalai Lama has said "My religion is kindness."
Kindly RSVP with Derrick. Thanks!
| | |
| --- | --- |
| | Law Building 389 |
| | Saturday, 10th April 2010 |
| | 10.00am - 1.00pm |
| | Free! Your body & mind! |
| | Derrick Wong |
Breathing Meditation
UNIBUDS Meditation Workshop
Venerable Sujato
Venerable Sujato will teach breathing meditation at this workshop on Saturday, 08 May 2010. According to Meditation-Techniques-Guide.com, "Breathing meditations are one of the most ancient forms of meditation. However, their benefits are numerous and they are practiced by people from all walks of life. It is a very practical, easy and effective way to manage the distraction of mind and bring it to a calm and focused state."
Venerable Sujato (Anthony Best) was born in Perth in 1968. He went on to have a successful music carreer with the band Martha's Vineyard before deciding to leave it all behind to take ordnination in Thailand in the forest lineage of Ajahn Chah in 1994. As well as living for several years in forest monasteries and remote hermitages in Thailand, he spent three years in Bodhinyana Monastery (Perth) as secretary of Ajahn Brahm, and over a year in a cave in Malaysia. Venerable Sujato is now the abbot of Santi Forest Monastery, in the Southern Highlands of New South Wales, Australia. He has combined his love of meditation with study of the Buddha's Teachings and in 2001 published "A Swift Pair of Messengers", a compilation of Sutta passages on the theme of tranquility and insight.
Kindly RSVP with Derrick. Thanks!
| | |
| --- | --- |
| | Law Building 389 |
| | Saturday, 8th May 2010 |
| | 10.00am - 1.00pm |
| | Free! Your body & mind! |
| | Derrick Wong |
Vesak Day Celebration
UNIBUDS Event
Do you know why the month of May is an auspicious month in Buddhist Calender? It's because it's the month when we celebrate Vesak. Vesak is the time when we commemorate events of significance to Buddhists of all traditions; Buddha's Birth, Enlightenment and his Passing (Paranibbana).
Vesak is also a time for great joy and happiness and we can express this through working together to decorate and set up the place for the celebration!
UNIBUDS will celebrate this auspicious day together every year. This year we will celebrate this day in. We will be having chanting session, two short Buddhism talks by venerables and the bathing of the Buddha Ceremony. So, all of you are invited to come and celebrate it together!
The Lodge, Level 3 of Squarehouse (UNSW)
Saturday, 15th May 2010
2.30pm - 5.00pm
Free!
Niky
Hans
Shi Ying
POTLUCK
UNIBUDS Activity
Another event is coming up! This time it is Potluck!
Come and meet your UNIBUDS brothers and sisters or even new friends! Never meet, never know!
Share your culinary skills or try out the various international food from our UNIBUDDIES!
Potluck is an event where all of us will gather under a common reason: FOOD! It is a good time for all of us to get together, sharing experiences and also stories! Besides, in case you missed last year's Bodhi Nite or if you miss Bodhi Nite. Here is your chance, as we screen through the highlights of Bodhi Nite 2009!
The Lodge, Level 3 of Squarehouse (UNSW)
Saturday, 22th May 2010
6.00pm - 10.00pm
You are welcomed to share a dish or two to share; otherwise, just your empty tummy!
Kai Yi
Patrick
Come to UNIBUDS Stall!
UNIBUDS session 2 stall
FYI, the UNIBUDS stall will be up this week as well! If you haven't renew your membership yet, here is your chance!
Feel free to drop by and help out when you are free! =D
Main Library Foyer
Monday to Friday, 19th - 23rd July 2010
9.00am - 4.00pm
Kai Yi
Ming De
Come to Bodhi Nite Stall!
UNIBUDS Activities
UNIBUDS has grown and this year UNIBUDS will be celebrating its 30th Birthday! Hooray~~ And therefore, we welcome you to our anniversary night -- Bodhi Nite 2010!
We, as enthusiastic members of UNIBUDS, are going to set up a marketing stall in front of the Uni Main Library and Quadrangle Lawn to promote and sell Bodhi Nite tickets! Of course, we hope that you will be able to help as well! Some information about it, we will be meeting up at 8.30am in the morning at the Unibuds Library (Squarehouse level 3) to set up, and pack up at about 4pm!
| | |
| --- | --- |
| | Infront of UNSW Main Library |
| | 16th - 27th August 2010 |
| | 9.00am - 4.00pm |
| | Hans |
What can you help? We need more manpower to set up as well as pack up because we need to carry everything to the stall (including the table, Buddha statue, banner etc) all the way from the lower campus to the upper campus (or the opposite way). Other than that, we will need people to look after the stall as well.
Don't worry if you only have 1-2 hours of free time in a week for the stall because we welcome everyone to be there anytime! If you feel like contributing but don't know how to contribute, this is a GREAT chance! To let us know your availability, contact us now!

Sadhu sadhu sadhu~!
Bodhi Nite 2010
UNIBUDS Event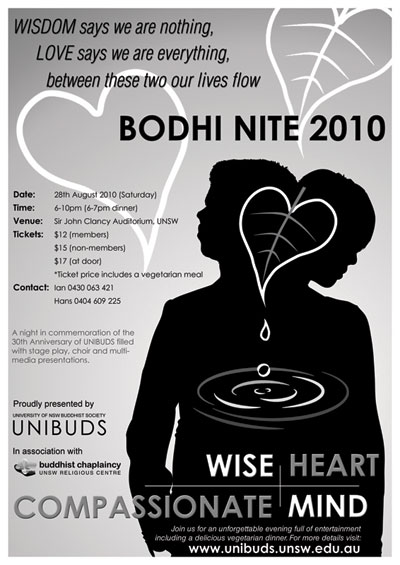 Bodhi Nite 2010, 30th Anniversary:
Wise Heart, Compassionate Mind
"WISDOM says we are nothing,
LOVE says we are everything,
between these two our lives flow"
UNIBUDS was first established in 1981, started as a humble student society on campus, promoting UNIBUDS. Throughout these 30 years, there had been happiness and difficulties. With the accumulation of every effort, no matter big or small, near or far, UNIBUDS has continued spreading the Dhamma on campus. With gratitude to all our helpers thus far, we invite everyone to attend Bodhi Nite 2010~!
Often, we associate wisdom with the understanding of non-self, of impermanence, but we can fall into the trap of annihilism, of nothing-ness. As with wisdom, we often associate compassion with embracing everything, both good and bad, relieving sentient beings from suffering, but we can also fall into the trap of blind compassion, providing assitance where it is not required, or even making situations worse. Through the journey of this amazing night, we shall discover, for ourselves, how often we need the combination of both Wisdom and Compassion, to hold in us a Wise Heart, and to have a Compassionate Mind, to truly experience how our life flows between these two.
Come and experience it for yourself~!
For information on the different departments, please click here!
~ Seniors' corner! ~
Seniors! Look no futher, click here for more information on Bodhi Nite.
Clancy Auditorium
Saturday, 28th August 2010
6.00pm - 10.00pm
(6.00pm - Vegetarian Dinner, 7.00 pm - The start of the event)
Ian
Hans
Middle Way Meditation
Meditation Workshop
The Venerable Sudhammo is the Abbott of the Dhammakaya International Society of Australia and president of Buddhist Federation of Australia. Venerable Sudhammo is greatly respected for his work here in Australia with both the Thai community and the Australian community. His friendly nature, his wisdom, and his soothing voice combine to make him a natural to explain meditation to beginners in simple, logical terms and to make meditation relaxing and enjoyable for all meditators.
The Venerable Satit is a permanent resident teachning monk, who has been living here for 10 years. The Venerable takes the dhamma talks and meditation sessions for English speakers at the Strathfield Meditation Centre every Sunday Morning. The Venerable has a degree in Computer Engineering and IT. Venerable Satit's guidance is simple and easy to understand.
We are honoured to invite Venerable Sudhammo and Venerable Satit to conduct this workshop. Meditation will lead you to access the natural core of strength that lies at the centre of your being. It permits a connection to your inner source, allowing the release of the things and roles you are caught in; work, parenting, concerns, and any other duties and responsibilities. Happiness, health and success are all locked within, anxiously awaiting release. Learn to meditate now and take control of your life by reducing stress, anger and frustration. Discover true happiness today.
Kindly RSVP so that can we confirm the number of attendees
| | |
| --- | --- |
| | Golstein G06 |
| | 18th September 2010 |
| | 10.00am - 1.00pm |
| | Ian Ch'ng |
Annual General Meeting
Upcoming Annual Event
Another year has passed and we have come to yet another very important milestone in UNIBUDS' history, the 31st Annual General Meeting! As we bid farewell and thank the 30th Executive Committee for their hard work, it is also time to elect our 31st Executive Committee to carry on the UNIBUDS' torch.
We hereby invite you to come to the AGM and show your support for UNIBUDS as this is the time when you can make your voice heard, as UNIBUDS exists because of her members (ie. YOU!) Therefore, no one is better to determine the future of the society other than YOU! So, please come to the AGM!
For more detailed information of each Executive Committee positions, please click here.
Click to download nomination form (PDF: 33kb)
The Lodge, Level 3 of Square House
25th September 2010
2.00pm for a 2.30pm start
Foh Fan
Bernard
Vipassanā Meditation - Develop Mindfulness
Meditation Workshop
Jim Teoh
In English, vipassanā meditation is often referred to simply as "insight meditation".
Vipassana: "Insight", is the intuitive light flashing forth and exposing the truth of the impermanence, the suffering and the impersonal and unsubstantial nature of all corporeal and mental phenomena of existence. Insight is not the result of a mere intellectual understanding, but is won through direct meditative observation of one's own bodily and mental processes. Vipassana is a way of self-transformation through self-observation, which means to see things as they really are.
In this three hours workshop, Jim Teoh will teach and share with us what is vipassanā meditation, how to practice vipassanā meditation, how to develop mindfulness in our day to day practice.
Speaker's Profile: Speaker Profile: Jim Teoh is experienced in both the Mahayana and Theravada teachings, Jim Teoh has been teaching practical Buddhist courses for over ten years. During this time he has taught numerous courses and meditation sessions at one of the earliest Buddhist introductory courses, the Buddhist Library.
Kindly RSVP so that can we confirm the number of attendees
| | |
| --- | --- |
| | Golstein G06 |
| | 9th October 2010 |
| | 10.00am - 1.00pm |
| | Su Sian |
:~: Cook of The Year 2010 :~:
Annual Activity
Need a break from books and lecture notes?
Don't know what to do over the weekends?
Do you love cooking?
Unable to find people to taste the food you cook?
Let your cooking talent out of the closet. Every talent is special – be confident!
Let's come together and do some cooking while learn Dhamma in a fun and active way!
More info about the event!
What is this event about?
It is an annual event brought to you by UNIBUDS. Participants do not need to have 'special' cooking skills. Come and have some fun time – at the same time, share and learn some Dhamma knowledge among members and friends.
What are the points to note?
• Form a group of 4 – 5 members
• Prepare 3 (or more) vegetarian dishes of your wish
• Dishes could be entrιe, main, or dessert
• Make sure portions are able to feed six persons
• Present your dishes to the judges in terms of Dhamma teachings
• You may want to name your dishes after some Dhamma terms too!
• There will be prizes for the winners!
What determines the winner?
Most important: Dhamma relativity
More important: Taste
Slightly more than important: Presentation
Important: Judges' preferences
Every event wouldn't happen without its audiences and supporters. The more the merrier! If you SERIOUSLY can't cook, you are most welcomed to come and show moral support! Be it participant or supporter, JUST BE THERE!
NOTE:
Don't worry if you are unable to find enough members to form a team. Kindly inform the organizers. They are more than happy to fix a team for you.
Dishes MUST NOT consist of milk, egg, garlic, onion, leek, shallot, and alcohol.
If you are unsure of certain ingredients, please feel free to clarify with the organizers. =)
The Lodge, Level 3 of Squarehouse
Saturday, 16th October 2010
11.00am - 3.00pm
Wei Yin
Kelly
Sculpture by the Sea + Coastal Walk
Upcoming Social Activity
Do you have any plans after your final exams? Still busy with studies and assignments? UNIBUDS always have lot of activities for you! =D
There will be a coastal walk coming up right after your exams! We are planning to visit the 14th annual bondi exibition - Scupture by the Sea. Basically, we can see the spectacular Bondi to Tamarama coastal walk transformed into a giant sculpture park of over 100 sculptures by artists from Australia and across the world. Thus, we will start our coastal walk from Bondi Beach! All along the way till to Bronte, we will enjoy ourselves with the sculptures. So, please bring your camera along to snap around! The whole journey will take approximately 2 to 3 hours walk and we will be catching 400 bus from UNSW Main Gate.
Please mark this event down in your note book NOW as this will be the first activity organised by the New Activities Director! Come and show your support and I believe you will have a great time to catch up with all members after all hectic exams. We will further update you guys for more details. So, stay tuned! =D
Good luck and all the best for your exams!
Bondi Beach to Bronte Beach
Sunday, 14th November 2010
Meeting time: 8.00am
Walking duration: 2-3 hours
Hong Gee
Summer Retreat
UNIBUDS Bi-Annual Retreat
Good news! UNIBUDS has something for you for the upcoming summer holiday! The annual Summer Retreat is coming; an excellent chance to experience monastic lifestyle! Stay tuned for all the exciting Dhamma enriching activities like meditation, Dhamma discussion and much more!!
Registration are on first come first serve basis. More information to come, if you do have any enquiries or would like to secure a spot now, please do contact the organiser.
| | |
| --- | --- |
| | Hwa Tsang monastery, Homebush |
| | 26th - 28th November 2010 |
| | 3 days 2 nights |
| | Just your bus fare. Food and accomodation are provided |
| | Su Sian |