Session 2 O-Week
UNIBUDS Annual Event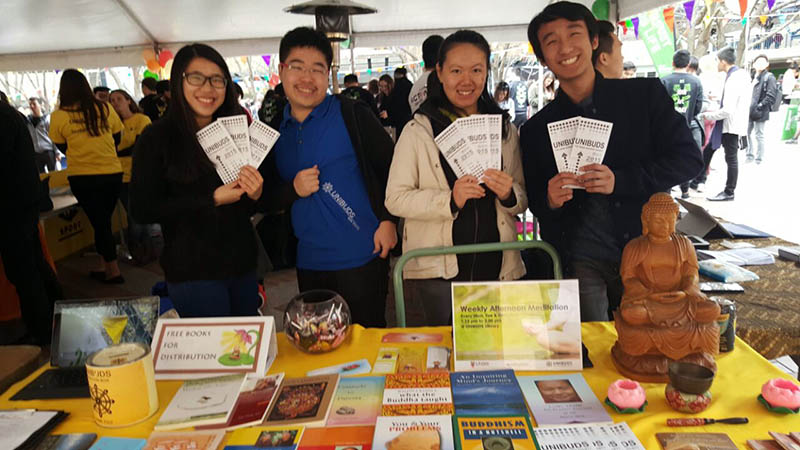 Welcome back to a fresh start of the university year!
UNIBUDS is a society to join to learn more about Buddhism and practise it too! But that doesn't end there. We organise lots of fun activities to get members to bond together while learning more about Buddhism. This includes Dhamma talks, meditation workshops to potlucks (free food) and a spectacular one-night-only performance show! So, don't miss out on your chance to become a part of our society today! If you were a member previously, our membership only last for one year so don't forget to renew your membership. But If you've already renewed your membership at the beginning of this year, your membership will still be valid. If you've already signed up, just pop by to have a friendly chat with us.
How to sign up? Just come to our stand as per details below.
Outside Main Library
Thursday, 27th - 31st July 2015
10.00am - 4.00pm
Emily - 0433 149 913 | emily.wj.yap@gmail.com
Louis - 0412 279 153 | louis.chandra94@gmail.com
Jinsin - 0450 038 737 | j12_20@hotmail.com
Potluck 3
UNIBUDS Activity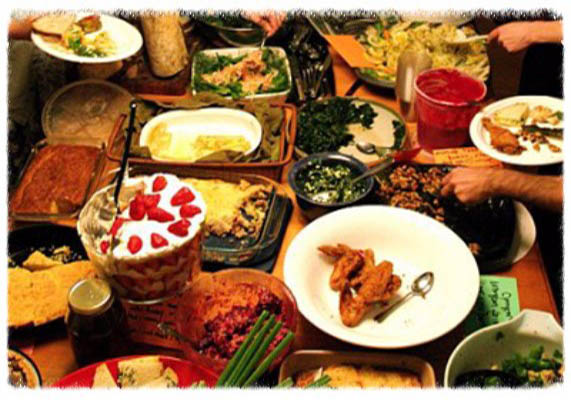 Semester Two is just around the corner! Hope everyone had a wonderful winter break! Wondering what you can do on a Saturday night? Come join us for our next event - POTLUCK! It will be a night filled with good companions, fun games and delicious food!! Feel free to bring a dish or some drinks to share with your friends too! Otherwise, come along with an empty stomach!
We will also introduce UNIBUDS' biggest event - Bodhi Nite! So come along to find out more about Bodhi Nite! Hope you will be there to enjoy food and meet friends!
The Lodge, level 3 of Squarehouse
Saturday, 1st August 2015
6.00pm - 9.30pm
FREE! Just your empty tummy!
You are welcomed to bring a dish to share with everyone :)
Pei En - 0415 593 703 | peien.chong02@gmail.com
Wirya - 0450 015 630 | tan_wirya@hotmail.com
六度: 布施,持戒
The Six Paramitas Session 1: Dana and Precepts
UNIBUDS WEEKLY Chinese Dhamma Talk
能融法师 Venerable Neng Rong
Welcome back to uni! Hope you guys had a great holiday and are pumped for the new semester. This week, we will be exploring the topic "The Six Paramitas- 1 (Dana and Precepts)". The 6 Paramitas are core teachings in Buddhism, and are qualities that all bodhisattvas possess. We will initially be exploring the first 2 paramitas, which help us let go of our attachments while helping others and practicing self-discipline. Interested in learning more? Come along to this week's Dhamma Talk to find out.
P.S.: If you don't understand Chinese but wish to attend the class, feel free to contact me so that I can arrange a translator to guide you through the class.
Speaker's Profile:
Venerable Neng Rong is the current Buddhist Chaplain at UNSW and Abbess of Hwa Tsang Monastery, which is the monastery founded by UNIBUDS Patron Venerable Tsang Hui. Venerable Neng Rong has earned her Masters in Educational Administration at UNSW in 1993 and her Masters of Arts (Buddhist Studies) from the Taiwan Chung Hwa Institute of Buddhist Studies in 1999. Venerable has done extensive work in the teaching of scripture classes for both primary and high school students. She is also involved in teaching Buddhism to university student groups from UNSW, Sydney University, Macquarie University and University of Technology Sydney. Venerable helps with providing support, advice, and counseling for the university Buddhist communities and members of the university community in general. She hopes to promote religious understanding, peace and spirituality on campus.
| | |
| --- | --- |
| | Newton Room 6 |
| | Thursday, 30th July 2015 |
| | 6.00pm - 8.00pm |
| | Harry - 0452 646 414 | harrylim94@gmail.com |
Introductory Course to Understand Dependent Origination
UNIBUDS WEEKLY English Dhamma Talk
Phra Mana
How is everyone doing? I believe everyone had a very wonderful holiday. First of all, I have great news to share with all of you because next Friday we are going to have Phra Mana give us a Dhamma Talk about Dependent Origination. Thus, we will be exploring inwards and look at how everything are interconnected with each other.
Speaker's Profile:
Venerable Phra Mana Viriyarampo was born in the busy city of Bangkok, Thailand. After studying medicine for 3 years, he ordained as a Buddhist monk in 1986. He has undergone meditation practice and training with several great teachers in Thailand and abroad. Throughout his experience as a monk, he has traveled to more than 30 countries teaching Buddhism and meditation, attending symposiums, conferences, religious events and many more. In the year 2000, for the first time in the history of the Olympic Games, Buddhism was represented by monks as volunteers for the Religious Centre in the Games Village and Phra Mana was appointed as the Buddhist Chaplain to teach meditation to athletes and contingents of the Sydney 2000 Olympic and Paralympic Games, together with other Buddhist monks from different traditions. Today, as the Abbot of Sunnataram Forest Monastery, he focuses his training in teaching meditation and the cultivation of a wholesome lifestyle. He continues to steer, guide and touch the lives of the Australian community through the Dhamma and meditation to achieve happiness, calm and peace. He is a picture of health, an animator, a strong believer in the power of positive thought, a yoga & Tai Chi enthusiast and an inspiration both to the Sangha (monastic order of monks and nuns) and the lay community.
| | |
| --- | --- |
| | Room 163, Level 1 of Law Building |
| | Friday, 5th June 2015 |
| | 7.00pm - 9.00pm |
| | Edo - 0405 998 088 | edowincent@gmail.com |
Sport Session - Badminton
UNIBUDS Weekly Activity
Come join us for Badminton in this last week before the study break. There may be assignment due dates on the way, but if you can finish them early, you can rewards yourself with some fast paced sport!
Note:
- What to bring: Just yourself and a bit of money!! (We will provide racket and shuttlecocks)
- What to wear: sport clothing and shoes (a MUST)
Multipurpose-Hall, Level 1 of UNSW Unigym
Sunday, 2nd August 2015
11.00am - 1.00pm
$4 - Member
$7 - Non-member
Steven - 0427 850 858 | bdlemsxw@gmail.com
Monday ,Tuesday and Friday Afternoon Meditation
UNIBUDS DAILY Meditation
What are the benefits of meditation? Meditation helps to relax and settle our minds from our busy daily life. It also allows us to bring awareness to the present moment and to focus on the tasks at hand.
Why not spend a small part of our day to enjoy a little bit of peace and serenity. Take this excellent opportunity to practice, breathe and look within ourselves. For further enquiries, feel free to contact me! Hope to see you there!
| | |
| --- | --- |
| | UNIBUDS Library, Level 3 of Squarehouse |
| | Monday, Tuesday and Friday |
| | 1.15pm - 2.00pm |
| | Thanawan CHIRAKIJJA (Pop) - 0432 473 898 | tchirakijja@gmail.com |