Buddhist Exhibition 2017
THEME: "Uncovering the Light of Buddhism"
UNIBUDS Event
April is approaching and we have many exciting events waiting for you! One of them is our triennial Buddhist Exhibition. Buddhist Exhibition is an exhibition organised by UNIBUDS to showcase Buddhist artefacts and artworks to the public.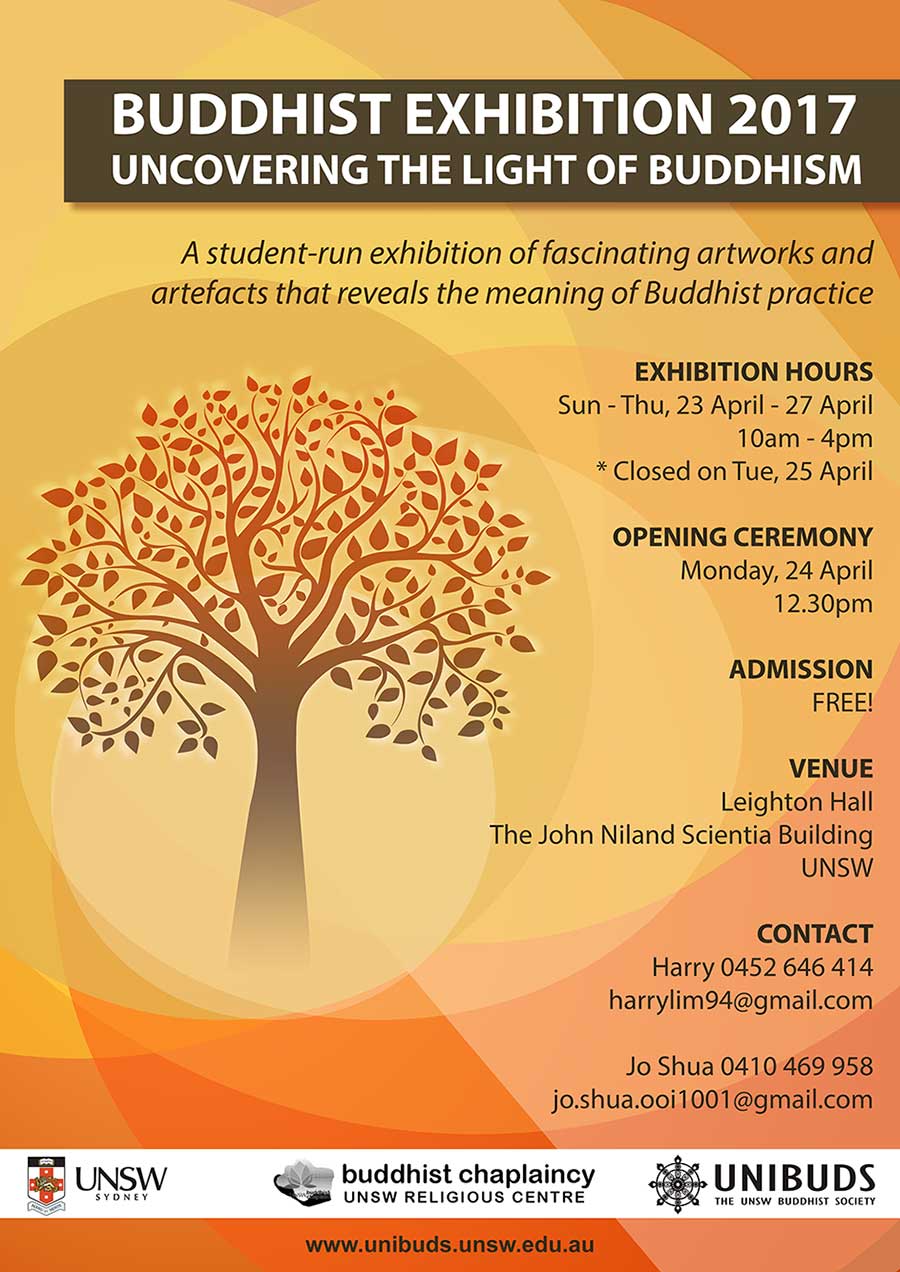 In accordance with this year's theme, "Uncovering the Light of Buddhism", we will be exploring the original purpose and meaning behind some Buddhist artefacts by delving into the influence of time and culture in shaping current perceptions of these artefacts. How did Buddhism come about? What items did monks use back in the day of the Buddha? Who distilled the Buddha's teachings from oral communication into written form and how were they recorded? Come and find out as you navigate your way through artefacts and exhibits as art, history and Buddhism intertwine.
Please do not hesitate to contact us if you have further questions about this exhibition. Also, we need YOUR help to make this event a success, so do check out the information below and contact us to know more about each department and how you can help. Let us all uncover the light of Buddhism together!
Department heads:

Coordinator :
Harry - 0452 646 414 | harrylim94@gmail.com

Decoration :
Fu Xiu - 0415 678 888 | hengfuxiu@gmail.com
Alina - 0450 314 388 | alina.aldhytha@gmail.com
Cece - 0432 893 598 | ceciliazhou893@gmail.com

Reception :
Katie - 0451 304 017 | miaoyunn97@gmail.com

Marketing :
Jo Shua - 0410 469 958 | jo.shua.ooi1001@gmail.com

Program Master :
Ricco - 0410 968 243 | yudha.ricco@gmail.com

Technician :
Tuspol - 0487 708 381 | tusza005@gmail.com

Security :
Marco - 0431 485 746 | marcotang104@gmail.com

Archive :
Tommy - 0430 916 919 | tommy-leow@hotmail.com
Leighton Hall, John Niland Scientia Building, UNSW
Exhibition: 23rd - 27th April 2017 (Closed on 25th April 2017 due to Anzac Day)
Opening Ceremony: 24th April 2017
09.30am - 04.00pm
FREE ENTRY!
Harry 0452 646 414 | harrylim94@gmail.com
Jo Shua - 0410 469 958 | jo.shua.ooi1001@gmail.com