Bodhi Nite 2016:
Life in the Hourglass
UNIBUDS ANNUAL Event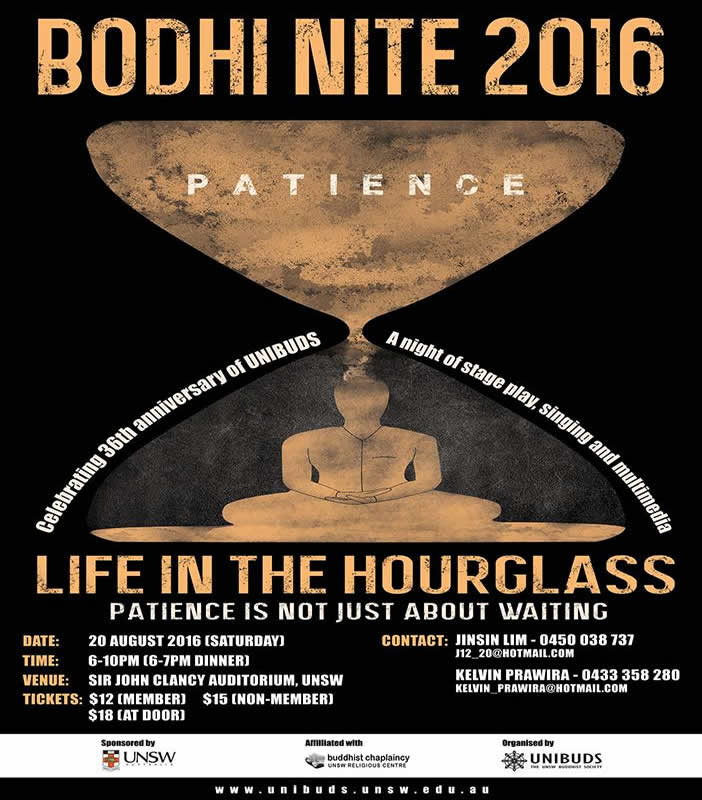 If you have been to a few of our activities, you might have heard about "Bodhi Nite" a few times by now. So what is this hype going around in UNIBUDS all about? Well, UNIBUDS has grown in the last 35 years and this year, we will be celebrating its 36th birthday! Bodhi Nite is a night where we celebrate UNIBUDS anniversary with a series of amazing performances such as acting, singing, dancing and multimedia presentations that aim to present the teachings of the Buddha in a fun and interesting way.
This year, we will be exploring the theme of patience. In this fast-paced life, how often have we brushed aside the need to be patient especially in the face of adversities? When having patience seems to be viewed as giving in or even inefficient in this modern world, do we really have the true understanding of what patience is? Come and discover with us what patience is all about in Buddhism!
Are you interested in making this special night memorable? Do you want to showcase your talent or even pick up new skills? Would you like to form treasured memories during your university life? Bodhi Nite is a great chance for you to be involved! We have a variety of departments that could be of your interest. So check out below and don't be shy to contact us to know more about how each departments contribute towards the making of a mesmerizing Bodhi Nite! We welcome you on this wonderful journey! =)
Date:
Saturday, 20th August 2016
Time:
6.00pm - 10.00pm
(6.00pm - 7.00pm - dinner served)
(7.00pm - 10.00pm - main event)
Venue:
Sir John Clancy Auditorium, UNSW
Ticket Price:
$12 (members) | $15 (non-members) | $18 (at door)
Contact:
Jinsin Lim - 0450 038 737 | j12_20@hotmail.com
Kelvin Prawira - 0433 358 280 | kelvin_prawira@hotmail.com
In order to make Bodhi Nite happen, we need lots of help from everyone. If you would like to be part of the night, make new friends, involve yourself with extracurricular activities or to add colour to your Uni life then feel free to join us on this wonderful journey! There are 12 different departments for you to choose from so you should be able to find one that interests you:
Program Master:
Edlin - 0402 525 496 | edlin.prajnajaya@yahoo.com
Sketch:
Fu Xiu - 0415 678 888 | hengfuxiu@gmail.com

Choir:
May - 0420 343 079 | maymyataung1@gmail.com

Multimedia:
Tommy - 0430 916 919 | tommy-leow@hotmail.com

Backstage:
Jinq - 0452 123 638 | jinqgoh95@gmail.com

Technician:
Den Neil - 0422 064 400 | ooi.den.neil@gmail.com

Reception:
Harry - 0452 646 414 | harrylim94@gmail.com

Catering:
Xin Hui - 0424 879 355 - tanxinhui27@gmail.com

Decoration:
Nee Shuang - 0430 788 980 | shuang.hns@gmail.com

Marketing:
Kelvin - 0433 358 280 | kelvin_prawira@hotmail.com

Publication:
Zhi Sin - 0450 539 556 | zslee28@gmail.com

Transport:
Pei En - 0415 593 703 | peien.chong02@gmail.com

Archive:
Jerry - 0451 899 265 | jerico_jie@hotmail.com
Bodhi Nite Ticket Marketing Stall
UNIBUDS Annual Event
UNIBUDS will be setting up a stall during Week 3 and Week 4, from Monday to Friday 10am to 4pm in front of the main library. We would like to invite everyone to join us in a very warm welcome to the UNIBUDS family. We will also be selling tickets for Bodhi Nite on the day, so feel free to drop by if you haven't got your ticket yet.
If you've already got your ticket, just pop by to have a friendly chat with us.
As the saying goes "the more, the merrier!" So drop by our stall and say Hi to our friendly members!
Outside UNSW Main Library
Monday - Friday, 8th - 12th and 15th - 19th July 2016
10.00am - 4.00pm
$12 - Member
$15 - Non-member
$18 - At door
Jinq Yuen GOH - 0452 123 638 | jinqgoh95@gmail.com
Sport Session - Badminton
UNIBUDS Weekly Activity
Come join us for Badminton in this last week before the study break. There may be assignment due dates on the way, but if you can finish them early, you can rewards yourself with some fast paced sport!
Note:
- What to bring: Just yourself and a bit of money!! (We will provide racket and shuttlecocks)
- What to wear: sport clothing and shoes (a MUST)
Multipurpose-Hall, Level 1 of UNSW Unigym
Sunday, 14th August 2016
11.00am - 1.00pm
$4 - Member
$7 - Non-member
Jinq Yuen GOH - 0452 123 638 | jinqgoh95@gmail.com
Tuesday Afternoon Meditation
UNIBUDS WEEKLY Meditation
What are the benefits of meditation? Meditation helps to relax and settle our minds from our busy daily life. It also allows us to bring awareness to the present moment and to focus on the tasks at hand.
Why not spend a small part of our day to enjoy a little bit of peace and serenity. Take this excellent opportunity to practice, breathe and look within ourselves. For further enquiries, feel free to contact me! Hope to see you there!
| | |
| --- | --- |
| | UNIBUDS Library, Level 3 of Squarehouse |
| | Tuesday |
| | 1.15pm - 2.00pm |
| | Den Neil - 0422 064 400 | ooi.den.neil@gmail.com |