BUDDHIST EXHIBITION 2014
UNIBUDS Triennial Event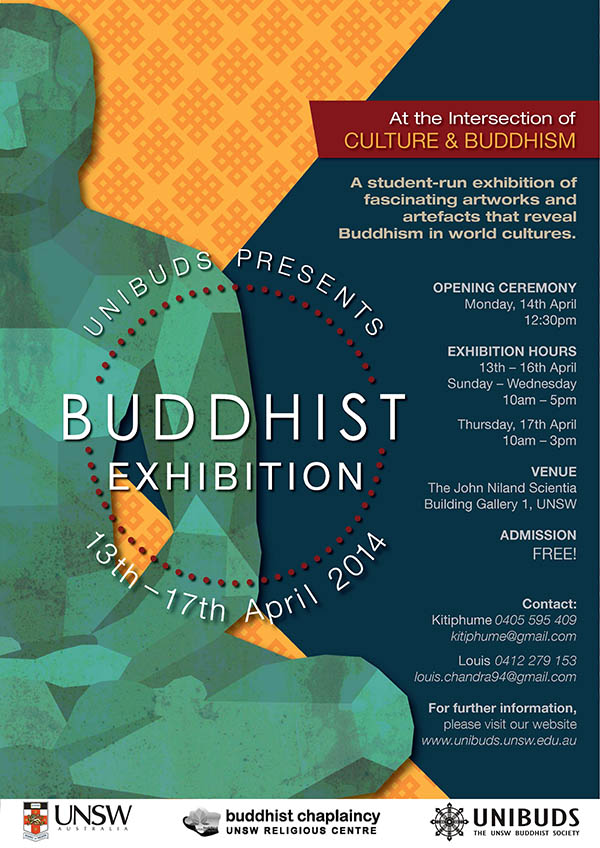 Buddhist Exhibition is a triennial non-profit event organised by UNIBUDS (The University of New South Wales Buddhist Society). Artworks and artefacts sourced from Buddhist Organisations in the Greater Sydney area will be displayed on the UNSW main campus.
Buddhist Exhibition 2014 - At the Intersection of Culture and Buddhism will take you on a journey of exploration into how different cultures have influenced Buddhism and how Buddhism has impacted particular societies.
This is a great opportunity to experience and understand more about world cultures and Buddhism. Don't miss out on a week of cultural exploration!
We need your help! Click here for information on the different organising-committee-departments where you can volunteer for!
Gallery 1, The John Niland Scientia Building
Sunday - Thursday, 13th - 17th April 2014
10am - 5pm (Sunday to Wednesday)
10am - 3pm (Thursday)
Kitiphume - 0405 595 409 | kitiphume@gmail.com
Louis - 0412 279 153 | louis.chandra94@gmail.com
No Weekly Activities This Week
UNIBUDS Weekly Activity