Bodhi Nite 2014:
I Grasp, I See, I Let Go
~A Loosened Bind, A Peaceful Mind~
UNIBUDS ANNUAL Event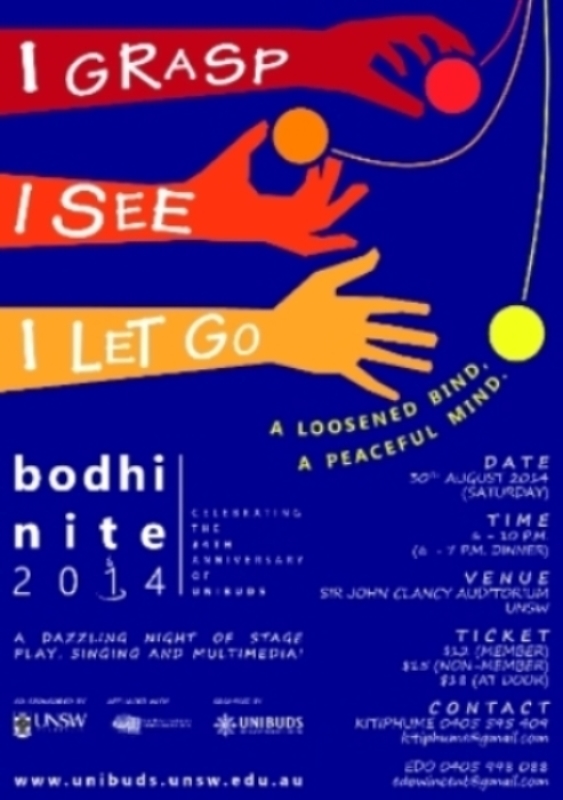 As we quickly approach the second half of the year, UNIBUDS' spectacular, Bodhi Nite, is near!
Bodhi Nite is UNIBUDS' annual performance night showcasing the sublime teachings of the Buddha through fun and creative means such as stage play, singing and multimedia. This year, Bodhi Nite celebrates UNIBUDS 34th Birthday Anniversary and celebrates who we are as a Buddhist society.
I Grasp, I See, I Let Go
What things do you grasp in your hands? What things do you grasp in your mind? How can we clearly see what they are? How can we clearly see their impact on our minds? What is the Buddhist concept of Letting Go?
This year, UNIBUDS will take you on a journey to explore the theme of Attachment and Letting Go and how it can be used to benefit you and those around you. So, note down the date in your notebooks, diaries, phones and laptops! See you at Bodhi Nite 2014!
Date: 30th August 2014
Time: 6.00pm - 10.00pm
(6.00pm - 7.00pm - dinner served)
(7.00pm - 10.00pm - main event)
Venue: Sir John Clancy Auditorium, UNSW
In order to make Bodhi Nite happen, we need lots of help from everyone. If you would like to be part of the night, make new friends, involve yourself with extracurricular activities or to add colour to your Uni life then feel free to join us on this wonderful journey! There are 12 different departments for you to choose from so you should be able to find one that interests you. We hope to hear from you soon!