Vesak Day
UNIBUDS Event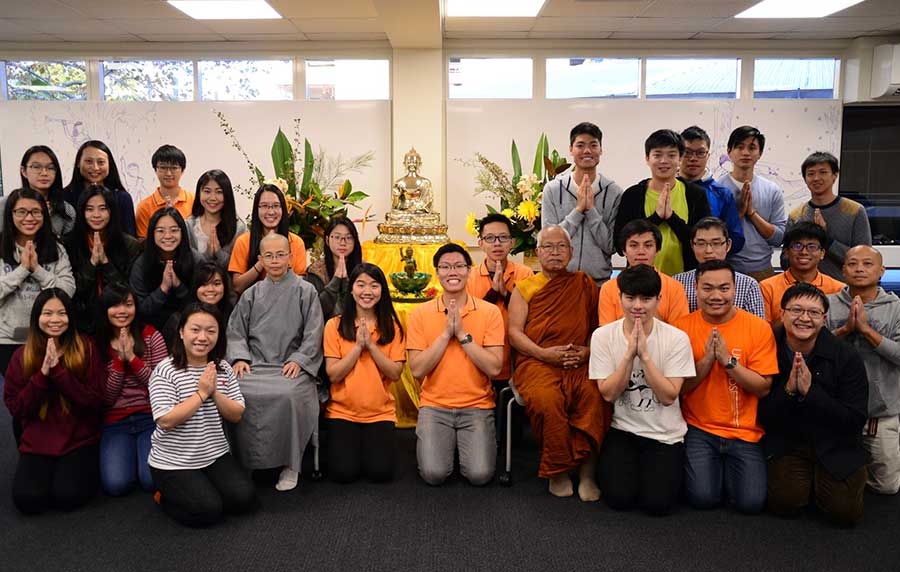 It's the annual big day of Buddhism and we would like to invite you to join us in celebrating Vesak Day! So, what is Vesak Day or Buddha Day? It is a celebration on the full moon day of the ancient lunar month of Vesakha, to commemorate the birth, enlightenment and passing away of the Buddha. Furthermore, it acts as a reminder to reflect on our practice on the Buddha's teachings.
From Thailand to South Korea, Myanmar, Nepal and Malaysia -- every country has its own tradition in celebrating this auspicious day. As a non-sectarian buddhist society, UNIBUDS celebrates Vesak Day in alternating tradition between Mahayana and Theravada. This year, we will be celebrating the ceremony in Theravada tradition. On the day, we will be chanting and listening to Dhamma Talks given by our patron, Venerable Chao Khun Samai and our Buddhist Chaplain, Venerable Neng Rong. In addition to that, we will have a significant ritual of bathing the Buddha statue to signify the purification of the body, speech and mind on this special day
Make sure to jot down the date for this meaningful and joyful event that only happens once a year! Hope to see you there with a modest and open heart in appreciating the Triple Gem.
Room 114, Level 1 of Square House, UNSW
Saturday, 19th May 2018
2.00pm - 5.00pm
Marco - 0431 485 746 | marcotang104@gmail.com
Kelly - 0416 958 053 | jinghuitan96@gmail.com
苦从何来?
Where did sufferings come from?
UNIBUDS WEEKLY Chinese Dhamma Talk
能融法师 Venerable Neng Rong
Speaker's Profile:
Venerable Neng Rong is the current Buddhist Chaplain at UNSW and Abbess of Hwa Tsang Monastery, which is the monastery founded by UNIBUDS Patron Venerable Tsang Hui. Venerable Neng Rong has earned her Masters in Educational Administration at UNSW in 1993 and her Masters of Arts (Buddhist Studies) from the Taiwan Chung Hwa Institute of Buddhist Studies in 1999. Venerable has done extensive work in the teaching of scripture classes for both primary and high school students. She is also involved in teaching Buddhism to university student groups from UNSW, Sydney University, Macquarie University and University of Technology Sydney. Venerable helps with providing support, advice, and counseling for the university Buddhist communities and members of the university community in general. She hopes to promote religious understanding, peace and spirituality on campus.
| | |
| --- | --- |
| | Squarehouse 208 |
| | Thursday, 17th May 2018 |
| | 6.15pm - 8.00pm |
| | Jay Sie - 0420 210 489 | cdt.unibuds@gmail.com |
Pragmatic Approach to the Nature of Mind
UNIBUDS WEEKLY English Dhamma Talk
Dr. Chien Hoong Gooi
Speaker's Profile:
Dr Chien Hoong Gooi is a Clinical Psychologist and the Director of the Psychology training clinic at UNSW where he provides supervision and training to postgraduate Clinical Psychology students. Chien Hoong is also a teacher of Buddhism and Buddhist meditation in the insight and mindfulness traditions. He previously served as the Buddhist Chaplain at the UNSW and is currently a Director of the non-sectarian Buddhist Library in Camperdown.
| | |
| --- | --- |
| | Room 163, Level 1 of Law Building |
| | Friday, 4th May 2018 |
| | 7.00pm - 9.00pm |
| | Koko - 0452 532 113 | edt.unibuds@gmail.com |
Sport Session - Badminton
UNIBUDS Weekly Activity
Come join us for Badminton in this last week before the study break. There may be assignment due dates on the way, but if you can finish them early, you can rewards yourself with some fast paced sport!
Note:
- What to bring: Just yourself and a bit of money!! (We will provide racket and shuttlecocks)
- What to wear: sport clothing and shoes (a MUST)
UNSW Fitness and Aquatic Centre (Unigym)
Sunday, 20th May 2018
10.00am - 12.00pm
$5 - Member
$8 - Non-member
Peter - 0401 793 520 | activities.unibuds@gmail.com
Monday & Tuesday Afternoon Meditation
UNIBUDS WEEKLY Meditation
What are the benefits of meditation? Meditation helps to relax and settle our minds from our busy daily life. It also allows us to bring awareness to the present moment and to focus on the tasks at hand.
Why not spend a small part of our day to enjoy a little bit of peace and serenity. Take this excellent opportunity to practice, breathe and look within ourselves. For further enquiries, feel free to contact me! Hope to see you there!
Quad G054 (Monday)
Squarehouse 214 (Tuesday)
Monday & Tuesday
3.15pm - 3.45pm
Mei Yan - 0411 315 603 | meditation.unibuds@gmail.com