EVENTS AND ACTIVITIES IN 2018
Refuge Taking Ceremony
UNIBUDS Annual Event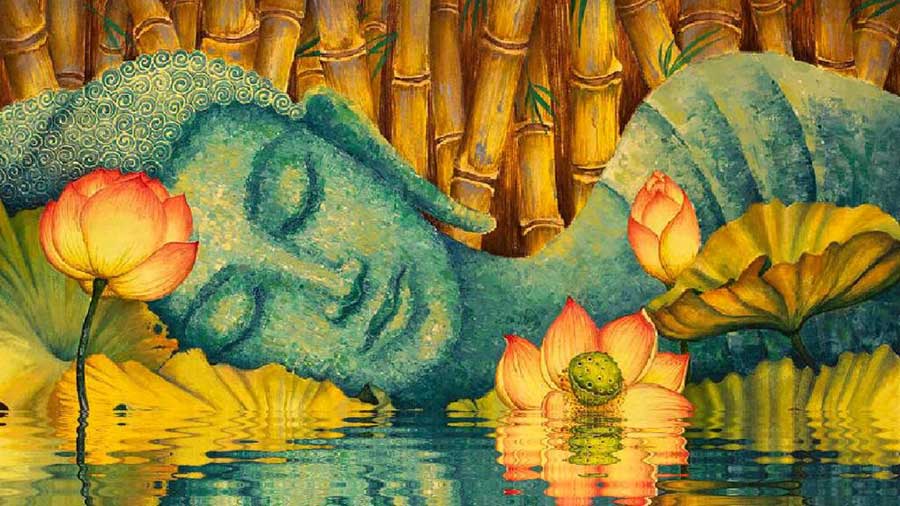 n Buddhism, the 'Triple Gems' refers to the Buddha, the Dhamma (the teachings of the Buddha) and the Sangha (the monastic Buddhist community). Just like a guiding light in the darkness, the Triple Gems illuminates the spiritual path of Buddhist practitioners. To fortify their commitments towards the cultivation of inner peace, Buddhists rely on the Triple Gems and take refuge in it.
This holiday, we will be heading to Hwa Tsang Monastery to participate in a taking refuge ceremony. Join us as we deepen our commitment to the practice of Buddhism. To register, fill in the form in the link below.
Hwa Tsang Monastery, Homebush
Sunday, 8th July 2018
Ceremony: 3.00pm - 5.00pm
Meeting time: 1.45pm @ bus stop near Chatime or 2.10pm at Central Station near Eddy Avenue
Fu Xiu Heng - 0415 678 888 | activities.unibuds@gmail.com
Winter Retreat
UNIBUDS Annual Event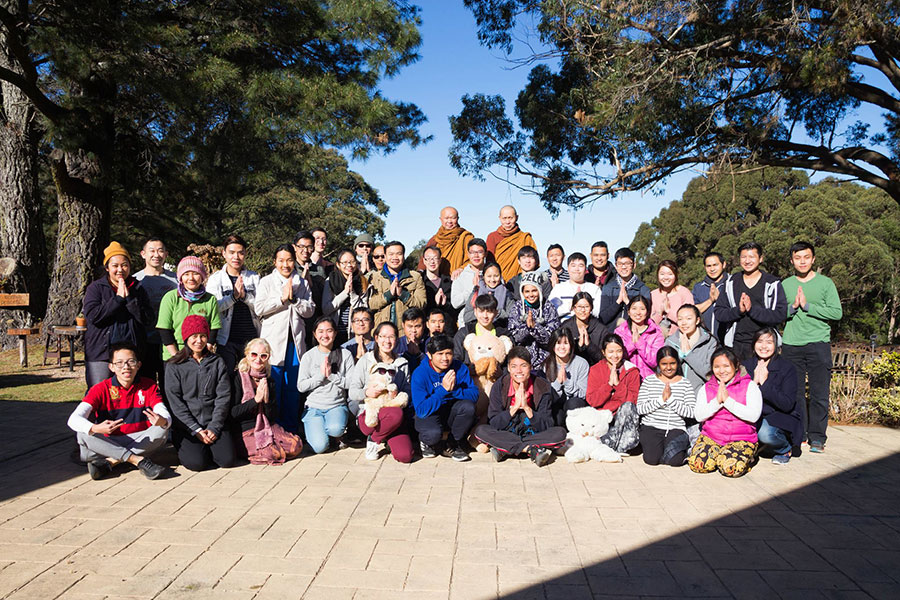 UNIBUDS' annual event, the Winter Retreat, is finally coming!! (Yayy~) This year we will be holding our retreat during the semester break at Sunnataram Forest Monastery, which is a perfect place for you to develop a peaceful and calm mind while enjoying a 3-days-and-2-nights trip full of fun activities!
What will we be doing?

Under the guidance of Phra Mana Viriyarampo, the abbot of Sunnataram Forest Monastery, we will be learning different types of meditation (including tai chi meditation!!!), getting in touch with the Buddha Dhamma, and practising Buddhist teachings in real life simulations through sketch and discussions. If the weather permits, we will also be having bushwalking and a BONFIRE!
What if I'm not a student, UNIBUDS member nor full-on Buddhist?

All are welcome! The retreat - and the Monastery itself - is about opening the doors of Buddhism for you to explore. However, due to limited spaces, UNIBUDS members will be prioritised, and first-come-first-serve basis applies. so do register soon so you don't miss out! As a sign of respect to the Monastery, participants must attend the full retreat for 3 days 2 nights.
Now, doesn't it sound like something you'd love to experience?

If you will be having post-exam syndrome after the exam period, or just want to step out from hectic work routines, do come and enjoy the chill and quiet suburb of Bundanoon while taking up this rare opportunity to experience a forest monastic life! In addition, not only that your knowledge will expand, but while listening and contemplating the Dhamma or mingling with spiritual friends, you can also develop a clearer, more focused and wise mind when you step out of the retreat.
How can I register?

Please register online by clicking the link here.
There will be a $10 registration fee included for registration, which will be refunded to you once you finished the retreat. As we have had issues with participants pulling out last minute in the previous years that have been an inconvenience for the monastery as well as taking up spots of people who didn't manage to get a spot, the purpose of this deposit is to reserve a place for participants who are really interested and organisers can have a better estimate of the number of participants. Thank you for your understanding :) Please kindly send a copy of the receipt to activities.unibuds@gmail.com.
For more information on the Monastery, please visit: www.sunnataram.org.
Destination: Sunnataram Forest Monastery, Bundanoon
Weekend, 29th June - 1st July 2018
Complete information will be provided upon registration
Food and accommodation is generously provided by the Monastery, donations to theMonastery are most welcome. The cost for a one way train ticket is approximately $8.00 (full) or $4.00 (concession).
Alina - 0450 314 388
Jay Sie - 0426 810 489
Jin - 0434 066 110
activities.unibuds@gmail.com
CPR Workshop
UNIBUDS Activities
Say someone next to you collapses out of the blue. What would you do? How would you respond? It might seem like a bizarre situation to think about while you're sitting comfortably at your desk, but as a matter of fact some 30, 000 people have an out-of-hospital cardiac arrest in Australia each year and 90% of them will die due to late intervention. So what can we do?
Our CPR Workshop is the perfect opportunity for you to learn the necessary skills required to provide a first aid response until the arrival of medical assistance, as proper action taken during this time frame is crucial to saving a life! Held by Dr Chiang, an Emergency Consultant based in Sydney, this workshop will include presentations, demonstrations by medical tutors, hands-on practical opportunities on mannequins and Q & A sessions. And as with all UNIBUDS events, this workshop is not restricted to members - anyone can join (yes, even if you're no longer a student at UNSW) ??And the best part? Its completely free of charge! So please don't pass by this valuable opportunity, and bring your friends along to learn how to save lives together!
However, due to the limited space, UNIBUDS members are prioritized and a first-come-first-serve basis applies. So do register here ASAP so you don't miss out!
Speaker's Profile:

Sc Hons (Environmental & Occupational Health), MBBS (Hons), FACEM, CCPU

Dr Lee Juan Chiang earned his medical degree in University of Sydney and completed his Emergency Medicine training in the Sydney Local Health District. Hailed from Kuala Lumpur, he is currently an Emergency Physician based in Sydney, splitting his time between large and small EDs in both public and private hospitals.

He has a niche skill in Emergency Ultrasound and has been performing point-of-care ultrasound for almost 10. He previously served as the Australasia Society of Ultrasound Medicine (ASUM) Trainee Representative for Emergency Ultrasound in 2012 and was Nominated the 'Young Ultrasonographer of the Year' by ASUM in 2014. With his deep passion and dedication in Emergency Ultrasound, he has helped to facilitate the development of Emergency Ultrasound Unit at Royal Prince Alfred Hospital, Sydney, in 2015. He firmly believes that the utilisation of Emergency or Point-of-Care Ultrasound (PoCUS) can improve the outcome of patients' care, and therefore seeks to further empower this skill to fellow Emergency clinicians.

Dr Chiang is extremely passionate about teaching and has conducted several Emergency Ultrasound courses as well as CPR workshops. His current passion is to teach students good and effective CPR with the hope that one day they would be able to save lives.

When he is not glued to the ultrasound machine in ED, you might see him feasting on Malaysian street food in his favourite local Malaysian restaurant with his family. If you are really lucky, you might even see him salsa dancing at the Cuban club in Sydney.
| | |
| --- | --- |
| | Law Building Room 101, UNSW |
| | Sunday, 10th June 2018 |
| | 10.00am - 11.30pm |
| | Free - Limited spots, please register! |
| | Katie - 0451 304 017 | activities.unibuds@gmail.com |
Meditation Workshop - Loving-Kindness Meditation
UNIBUDS Meditation workshop
Rod Lee
Time flies and the semester is about to end! Usually, this is one of the busiest and stressful periods throughout the semester because of the never-ending assignments and studies. But worry not. We are here to help you get through the tough time as UNIBUDS will be holding its second meditation workshop of the year to keep your stress level down and be ready to perform the final sprint for the finals.
This workshop will be about Loving Kindness Meditation which is a form of meditation that focuses on developing feelings of goodwill, kindness and warmth towards each other. This workshop is suitable for everyone, even for beginners as we will not be meditating all the time; instead, it includes an introduction to Loving-Kindness meditation, guided meditation sessions and discussions about meditation. This will definitely be a perfect and fruitful opportunity for those who are keen to develop their interest in meditation or just simply want to learn how to meditate!
Speaker Profile:
Rod Lee is the director of the Tibetan Buddhist Society. He has been practicing Buddhism since 1978 and has been teaching Buddhism for over 20 years. He was a disciple of Venerable Geshe Loden. Rod has a company called Working Balance which teaches meditation and mindfulness to business people. He teaches Tai Chi and is a Shiatsu massage therapist. He also provides stress management counselling for individuals using Buddhist perspectives.
| | |
| --- | --- |
| | Squarehouse 114, UNSW |
| | Saturday, 26th May 2018 |
| | 10.00am - 12.00pm |
| | Free |
| | Mei Yan Tang - 0411 315 603 | meditation.unibuds@gmail.com |
Vesak Day
UNIBUDS Event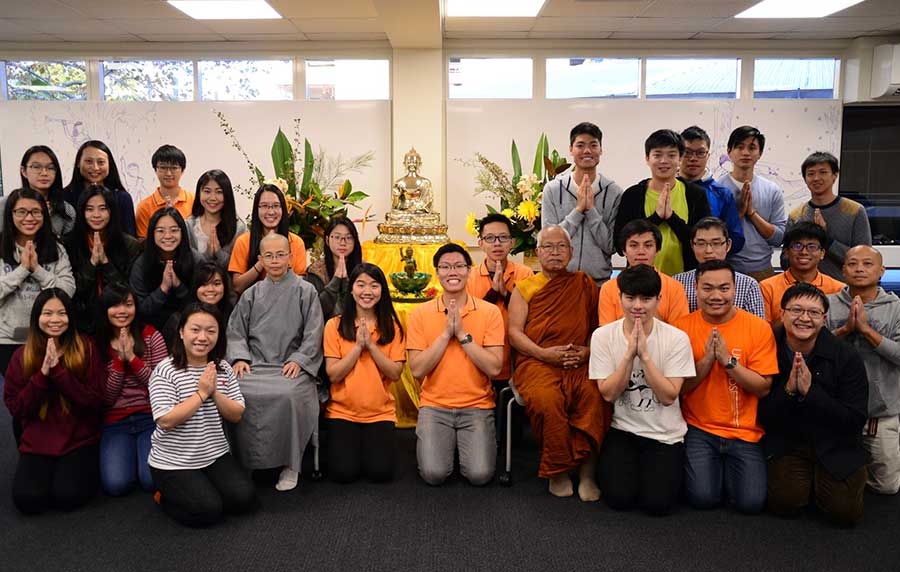 It's the annual big day of Buddhism and we would like to invite you to join us in celebrating Vesak Day! So, what is Vesak Day or Buddha Day? It is a celebration on the full moon day of the ancient lunar month of Vesakha, to commemorate the birth, enlightenment and passing away of the Buddha. Furthermore, it acts as a reminder to reflect on our practice on the Buddha's teachings.
From Thailand to South Korea, Myanmar, Nepal and Malaysia -- every country has its own tradition in celebrating this auspicious day. As a non-sectarian buddhist society, UNIBUDS celebrates Vesak Day in alternating tradition between Mahayana and Theravada. This year, we will be celebrating the ceremony in Theravada tradition. On the day, we will be chanting and listening to Dhamma Talks given by our patron, Venerable Chao Khun Samai and our Buddhist Chaplain, Venerable Neng Rong. In addition to that, we will have a significant ritual of bathing the Buddha statue to signify the purification of the body, speech and mind on this special day
Make sure to jot down the date for this meaningful and joyful event that only happens once a year! Hope to see you there with a modest and open heart in appreciating the Triple Gem.
Room 114, Level 1 of Square House, UNSW
Saturday, 19th May 2018
2.00pm - 5.00pm
Marco - 0431 485 746 | marcotang104@gmail.com
Kelly - 0416 958 053 | jinghuitan96@gmail.com
Potluck 2
UNIBUDS Activity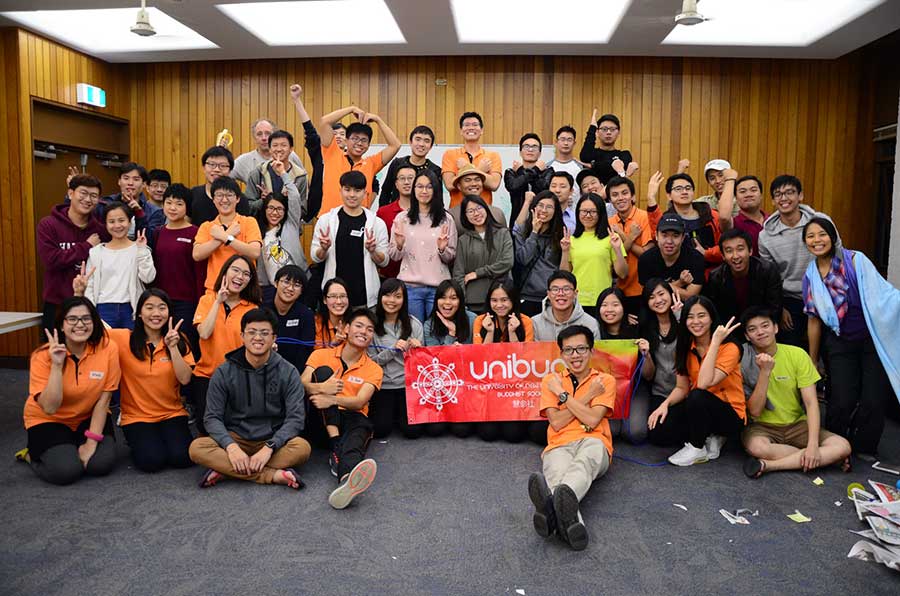 If you missed our first POTLUCK, worry not, because here comes... *drum rolls* POTLUCK 2! For those who had not heard of POTLUCK before, it is a social event where people bring their dishes and share it with other people. Some of our lovely members will try their best to bring yummy vegetarian food so do come if you want to get a bite of it! For those home chefs who love cooking, don't be shy to show us how good your cooking skills are! Bring your signature dish along and share it together! All vegetarian food is welcome, whether it is just an appetizer, main dish or a sweet treat.
Food is always good when shared, so drag your friends along and spread the joy around! Mark your calendar and remember to bring your empty stomach and excitement for food on Week 10's Saturday night! See you there!
The Lodge, Level 3 of Squarehouse
Saturday, 5th May 2018
6.30pm - 9.30pm
Just your busfare! You are more than welcomed to bring a dish to share with other. Otherwise, just your empty stomach!
Ming Li - 0423 039 056 | mingli_96@hotmail.com
Jay Sie - 0426 810 489 | jaysiewong@hotmail.com
Scripture Study
UNIBUDS ACTIVITY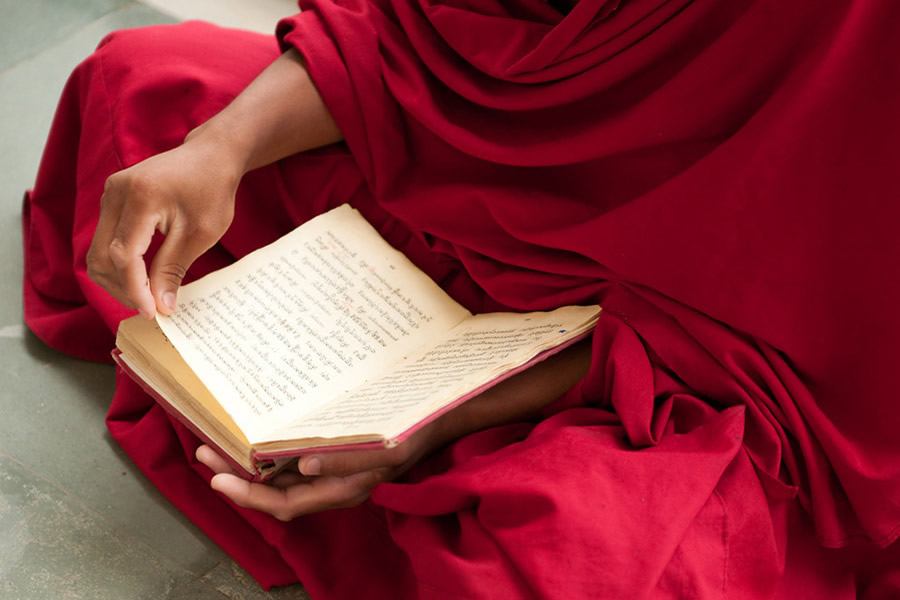 This year at UNIBUDS we are proud to present a newly crafted activity and that is (drumroll) SCRIPTURE STUDY!!!
What do YOU get for coming to Scripture Study? As Buddhism evolves through time, it undergoes various cultural exchanges and therefore there are countless number of interpretations a teaching can contain. From times to times some of you (like myself) may have some doubts when you hear about Buddhism from others - "How close is it to the original teaching of the Buddha?" How would you know what are the correct Teachings? How do I know if what other people tell me is true Buddhism? Are you on the right path? Knowing this would happen, the Buddha made his advice clear;

"Without approval or scorn, take careful note of (others) words, and make them stand against the Suttas (Discourses) and tally them against the Vinaya (Rules)." (DN 16)
Precisely, at Scripture Study, we will discuss hands-on the teachings of the Buddha (and his disciples') from the one of the earliest Buddhist recordings. Our resources are obtained from authoritative scriptures such as the Pali Canon, Chinese Agamas, Mahayana Sutras, as well as other treatises composed by the Buddha's disciples, whether directly or indirectly.
For many of you, this will be a new experience as you might be exploring a new means to study Buddhism! Do not fret! Anyone new to Buddhism is also welcome. Come and check it out!
Disclaimer: Like other UNIBUDS activity, there is no sectarian division in Scripture Study. This means that we welcome participants from all Buddhist backgrounds. As such, we will be discussing the Scriptures from different cultural/philosophical perspectives i.e. from both Theravada and Mahayana (Tibetan included) sources. Through this activity we aim to enhance your understanding of Buddhism in an open-minded way.
| | |
| --- | --- |
| | Squarehouse 114, UNSW |
| | Sunday, 21st April 2018 |
| | 10.00am - 1.00pm |
| | Free |
| | Tus - 0487 708 381 | activities.unibuds@gmail.com |
Songkran Festival
Non-UNIBUDS EVENT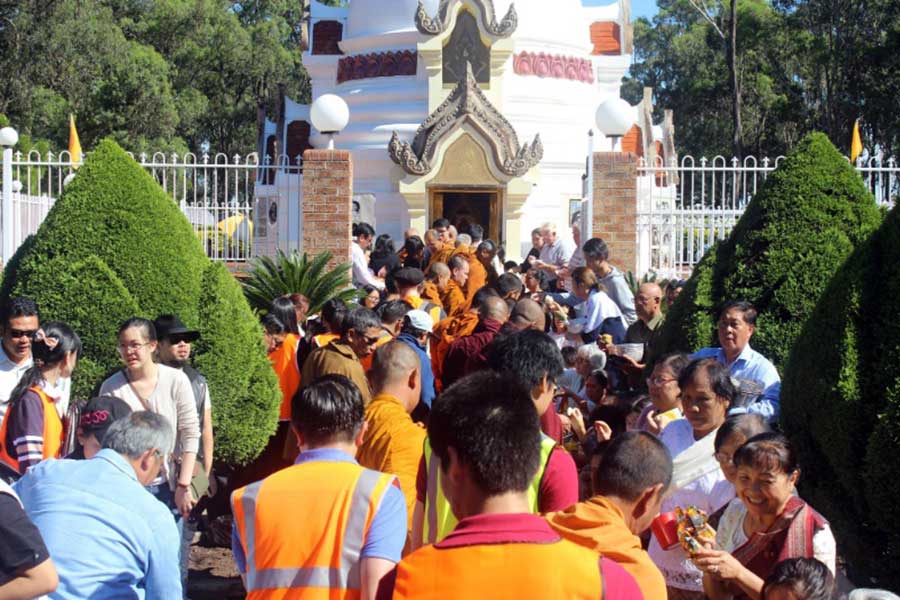 Need a little break from study on the weekend but don't know what to do? UNIBUDS is organising a trip for our next activity, Songkran, at one of our patron monasteries, Wat Pa Buddharangsee!
Songkran, also known as Thailand Water Festival, is the most important festival for Thai people and is celebrated as the traditional Thai New Year. Thai people sprinkle water to show respect to the elders including family members, friends, neighbours, and monks. Here, we will be having a series of activities, such as chanting, blessing, short sermon, fund raising Food Fete, South East Asian traditional dances and more!
Besides enjoying the festival, we will also be volunteering by helping out the monastery with food collecting from the food offering and packing up.
Remember to register before 14th April by contacting or emailing Katie or Alina. Hope to see you for Songkran!
Wat Pa Buddharangsee, Leumeah NSW
Sunday, 15th April 2018
9.00am - 5.00pm
Opal Card for Transportation
Katie - 0451 304 017
Alina - 0450 314 388
activities.unibuds@gmail.com
Meditation Workshop - Breathing Meditation
UNIBUDS Meditation workshop
Venerable Neng Rong
It is already the midpoint of the semester and we hope that you are coping well with university! The stress is building up as the workload is piling up. A clear and relaxed state of mind is the key to be productive and efficient.
UNIBUDS is organising its first meditation workshop of the year and it is a perfect opportunity to calm your mind. This workshop is suitable for everyone, even for beginners as it teaches the basic form of meditation which is Breathing Meditation. It will be a fruitful experience as it will be a fully guided workshop by our inspiring teacher. Also, there will be a Q&A session if you have any concern during the meditation!
Speaker Profile:
Venerable Neng Rong is the current Buddhist Chaplain at UNSW and Abbess of Hwa Tsang Monastery, which is the monastery founded by UNIBUDS Patron Venerable Tsang Hui. Venerable Neng Rong has earned her Masters in Educational Administration at UNSW in 1993 and her Masters of Arts (Buddhist Studies) from the Taiwan Chung Hwa Institute of Buddhist Studies in 1999. Venerable has done extensive work in the teaching of scripture classes for both primary and high school students. She is also involved in teaching Buddhism to university student groups from UNSW, Sydney University, Macquarie University and University of Technology Sydney. Venerable helps with providing support, advice, and counseling for the university Buddhist communities and members of the university community in general. She hopes to promote religious understanding, peace and spirituality on campus.
| | |
| --- | --- |
| | Squarehouse 115, UNSW |
| | Saturday, 14th April 2018 |
| | 3.00pm - 5.30pm |
| | Free |
| | Mei Yan Tang - 0411 315 603 | meditation.unibuds@gmail.com |
Rock Climbing
UNIBUDS ACTIVITY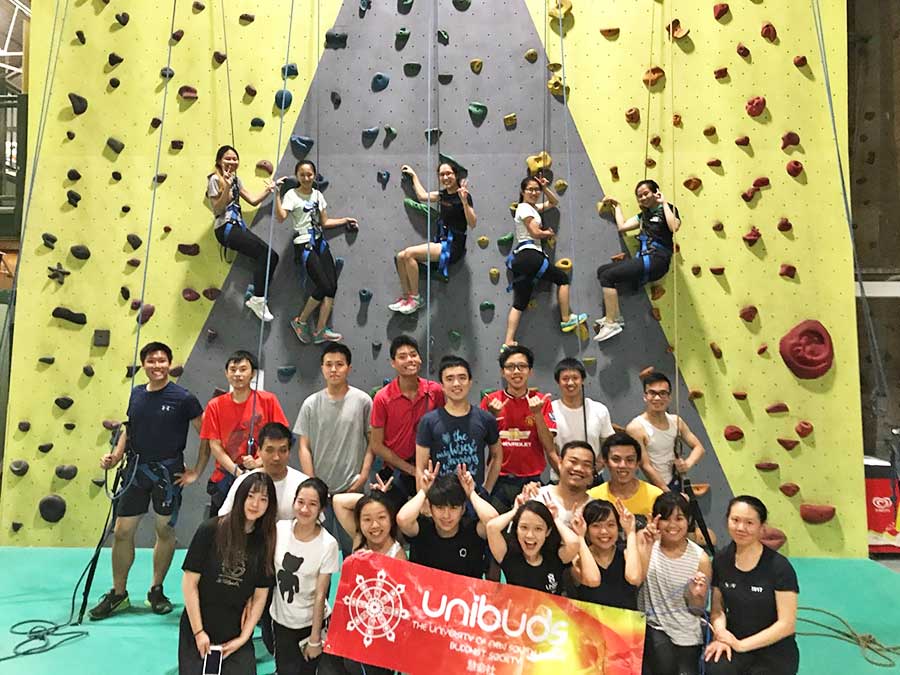 After such a hectic beginning to the semester, its finally time to take a break from all the hustle and bustle of uni life! And what better way to do so than to put your physical and mental strength and endurance to the test, while making new friends along the way? Join us on our rock climbing adventure at the Sydney Indoor Climbing Gym as we conquer our fears, challenge new heights and burn calories through a huge workout!
Never rock climbed before? Don't fret – there will be a short training session at the start where you will be taught the basics of climbing and belaying a partner before you will be given the freedom of challenging any of the 350 roped routes available.
Up for the challenge? Please register here before the 30th of March as spots are limited! Also, do not hesitate to contact us if you have any questions, and hope to see you there!
What to bring: small towel, drinking water, opal card, membership and waiver (Attached here), ID and your climbing spirit!
What to wear: running shoes, sports clothing (no skirts, dresses or thongs)
Venue: St Peter's Indoor Climbing Gym
Meeting Location: Central Station (Eddy Avenue) at 2.00pm
Sunday, 1st April 2018
2.30pm - 7.00pm
$18 per person (inc harness hire)
Katie - 0451 304 017 | activities.unibuds@gmail.com
Buddhism Fair
UNIBUDS EVENT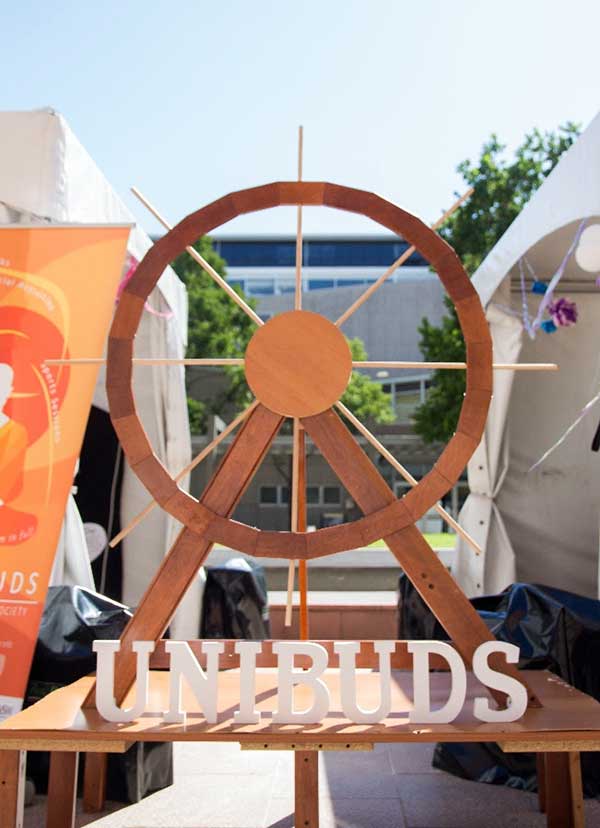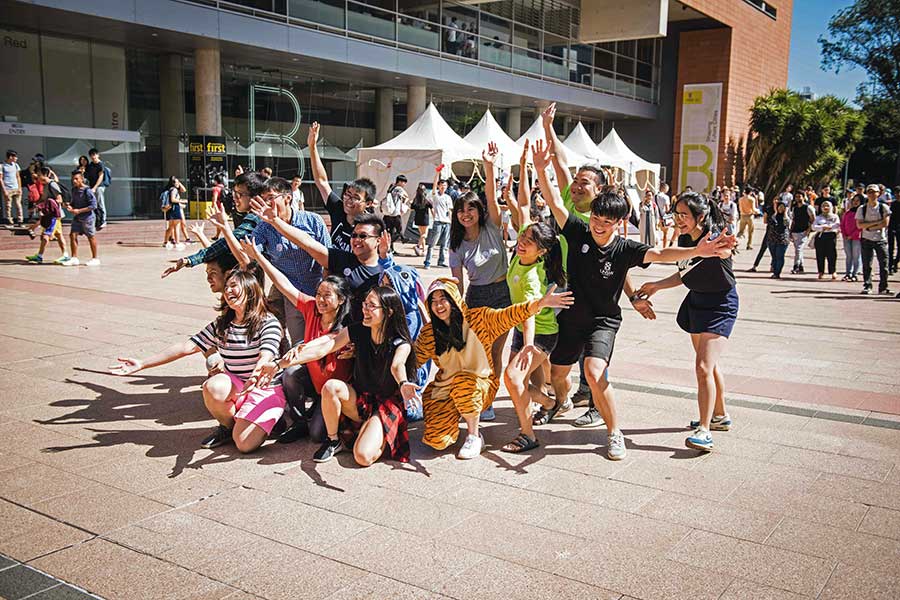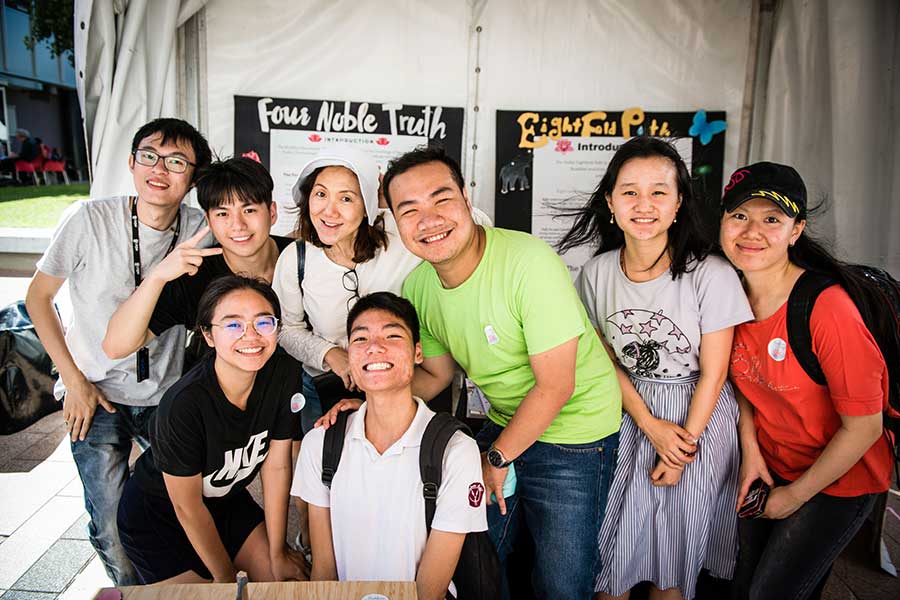 When there's a new semester, there's a new event too! Hold your horses as UNIBUDS presents to you Buddhism Fair, the first ever in UNSW!!
Being our first large scale event of the year, we couldn't do less to amuse you with all the activities we have on mid-Week 5. As you stroll along the main walkway, be sure to look out for our stalls filled with exhibits, games, food and wonderful decorations that'll make your jaw drop.
If that has not amazed you yet, we also have some cool gifts to give away by just visiting some of our stalls; Or check us out during mid-day as we have packed a surprise specially for all of you.
For more information, follow our UNIBUDS page on Facebook or send us an email. We'll be more than happy to assist you.
Main Walkway
Tuesday - Thursday, 27-29th March 2018
11.00am - 5.30pm
Just your busfare! You are more than welcomed to bring a dish to share with other. Otherwise, just your empty stomach!
Jin - 0434 066 110 | yongren.tan@gmail.com
Fu Xiu | 0415 678 888 hengfuxiu@gmail.com
Volunteers needed!!
We need all the help we can get to make this event happened! If you are interested to be part of the team? As We have a variety of departments that you can join- do check them out below and don't hesitate to contact us to know more about how each department contributes towards the making of an amazing Buddhism Fair!
Potluck 1
UNIBUDS Activity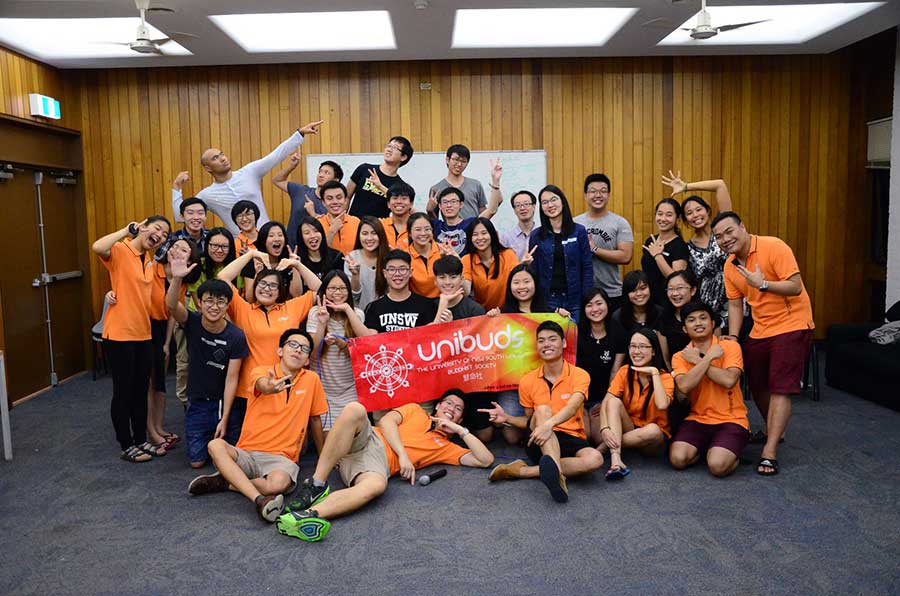 Potluck is back in 2018!! Featuring the food prepared by our dearest EXCO members, not to mention this year we will be going full vegetarian (Don't worry, I guarantee you they are equally tasteful and yummy)! So be sure to drop by and say hi to us, and who knows, you might develop a new taste for vegetarian food! (if you haven't yet)
If you want to show off your master chef skills, don't be shy! You are more than welcome to bring along your food and share it with everyone! Otherwise, just bring your empty stomach and a hearty smile.
What are you waiting for? Come and enjoy a special Saturday night full of food, friendssss and FUNNNNNN!!!
The Lodge, Level 3 of Squarehouse
Saturday, 17th March 2018
6.30pm - 9.30pm
Just your busfare! You are more than welcomed to bring a dish to share with other. Otherwise, just your empty stomach!
Marco - 0431 485 746 | marcotang104@gmail.com
Jin - 0434 066 110 | yongren.tan@gmail.com
O-PICNIC
UNIBUDS Annual Activity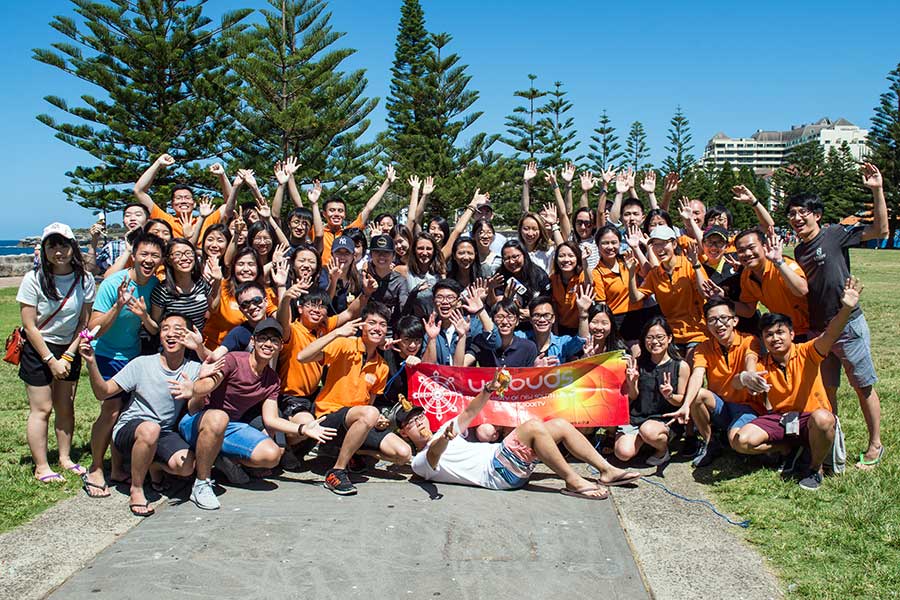 It's the start of a new semester and we hope everyone had a great break and is ready for all the grand events coming up this year! Still don't know who to talk to? Bored and looking for something to do? Want to make new friends? HAVE AN EMPTY STOMACH?
Do not fret! UNIBUDS will be welcoming YOU with our first event of the year to help YOU mingle with our big family. There will be lots of FREE food, FREE friends, and FREE fun!
What are you waiting for? This is a great opportunity not to miss! Register now at our O-Week stall and make sure you come packed with enthusiasm and a big stomach!
Event Venue: Coogee Beach (BBQ pit opposite McDonalds)**
Saturday, 3rd March 2018
Event time: 10.30am - 2.00pm
Meeting time: 10.00am at UNSW Main Walkway or 10.30am at Coogee Beach
Just your OPAL Card! Food & entertainment are provided!
Tus - 0487 708 381 | tusza005@gmail.com
Mei Yan - 0411 315 603 | meiyan171298@gmail.com
O-Week Stall
UNIBUDS BI-Annual Activity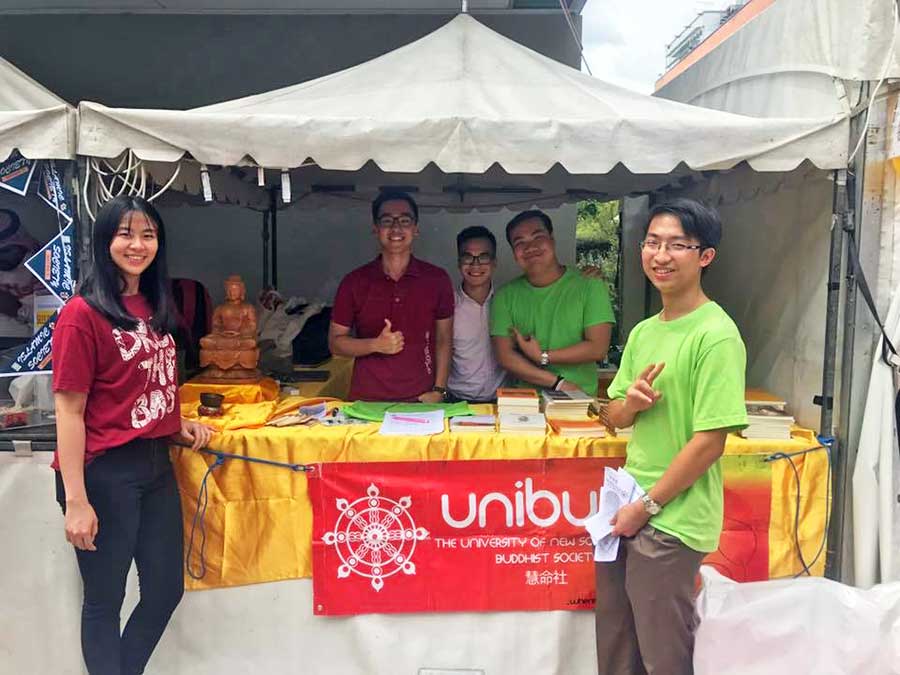 Are you guys ready for a whole new year of uni? Hyped up for new opportunities to make friends, participate in fun activities and learn about the Dhamma? Well you don't have to look far, as UNIBUDS is officially back in business!
Come drop by our O-week stall to meet our enthusiastic members who just can't wait to talk to each and everyone of you! Come and sign up, or renew your existing membership (remember, they only last a year :p) and welcome back!
Also, did we forget to mention that we will be handing out a certain limited edition membership gift to new members?  So what are you waiting for? Come on over and say hi!
Week 0: Near Red Centre
Week 1: Infront of Main Library
Week 0: 19th February - 23rd February 2018
Week 1: 26th February - 2nd March 2018
10.00am - 4.00pm
Jo Shua - 0410 469 958 | jo.shua.ooi1001@gmail.com
Katie - 0451 304 017 |miaoyunn97@gmail.com
Sabrina - 0424 889 277 | hqs08@live.com.my
For those who want to know more about our society, don't hesitate to contact us! Hope to see you there!