EVENTS AND ACTIVITIES IN 2017
Vesak Day
UNIBUDS Event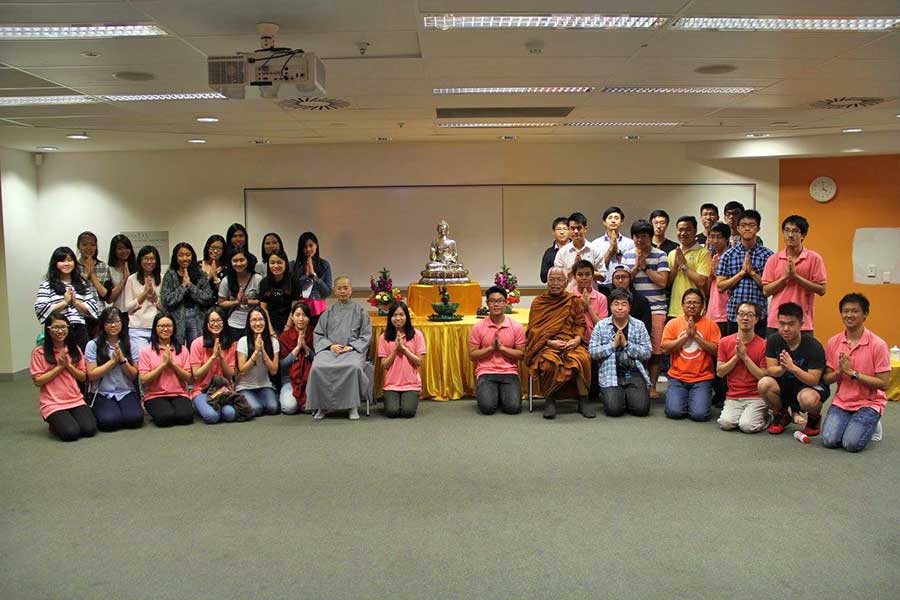 Vesak Day is coming up and we would like to invite you to join us in celebrating this auspiscious day! Just some brief information about Vesak Day, it is the commemoration of the Buddha's birth, enlightenment and passing away. It is a day to reflect back on the Buddha's practice and teachings that have been passed on over the course of time.
This year, UNIBUDS will be celebrating the ceremony in the Mahayana tradition. There will be chanting, followed by short Dhamma talks given by our patron, Chao Khun Samai as well as our Buddhist Chaplain, Venerable Neng Rong. Our schedule will also include the bathing of the Buddha statue to signify the purification of the mind. It is through the teachings of the Buddha that we are able grow and work towards our goals. Vesak is a significant event that should not be missed! We look forward to seeing everyone there!
Room 203, Level 2 of Law Building, UNSW
Saturday, 20th May 2017
12.00pm - 5.00pm
Tommy Leow - 0430 916 919 | tommy-leow@hotmail.com
Katie Lim - 0451 304 017 | miaoyunn97@gmail.com
Buddhist Exhibition Thank You Dinner
UNIBUDS Activity
Buddhist Exhibition is finally over and it was a successful event! A big thank you to all the helpers for your contribution and effort. We could not have accomplished this amazing exhibition without the continuous support from all of you!
To celebrate the achievement and accomplishment of our Buddhist Exhibition, we will be holding a Thank You Dinner on this Saturday 6th May from 7pm-10pm. We would like to invite all of you to come and relish in this event because this time the Organising Committee will be preparing foods, drinks and refreshments to thank everyone!
Like always, in addition to FOOD, we will have games prepared.
So feel free to come along and enjoy a night of celebration and fun!
The Lodge, Level 3 of Squarehouse
Saturday, 6th May 2017
7.00pm - 10.00pm
FREE!
Nee Shuang - 0430 788 980 | shuang.hns@gmail.com
Marco Tang - 0431 485 746 | marcotang104@gmail.com
Buddhist Exhibition 2017
THEME: "Uncovering the Light of Buddhism"
UNIBUDS Event
April is approaching and we have many exciting events waiting for you! One of them is our triennial Buddhist Exhibition. Buddhist Exhibition is an exhibition organised by UNIBUDS to showcase Buddhist artefacts and artworks to the public.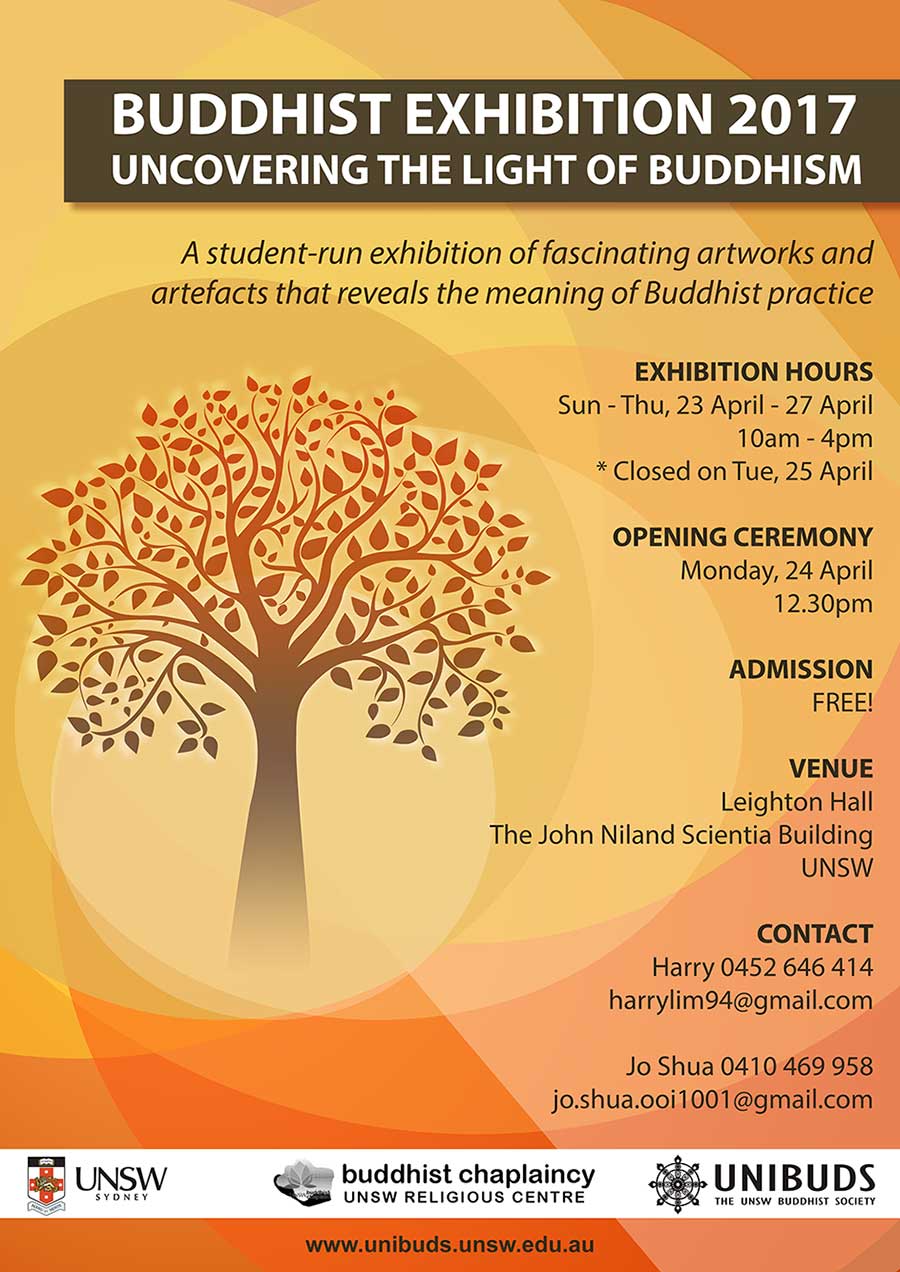 In accordance with this year's theme, "Uncovering the Light of Buddhism", we will be exploring the original purpose and meaning behind some Buddhist artefacts by delving into the influence of time and culture in shaping current perceptions of these artefacts. How did Buddhism come about? What items did monks use back in the day of the Buddha? Who distilled the Buddha's teachings from oral communication into written form and how were they recorded? Come and find out as you navigate your way through artefacts and exhibits as art, history and Buddhism intertwine.
Please do not hesitate to contact us if you have further questions about this exhibition. Also, we need YOUR help to make this event a success, so do check out the information below and contact us to know more about each department and how you can help. Let us all uncover the light of Buddhism together!
Department heads:

Coordinator :
Harry - 0452 646 414 | harrylim94@gmail.com

Decoration :
Fu Xiu - 0415 678 888 | hengfuxiu@gmail.com
Alina - 0450 314 388 | alina.aldhytha@gmail.com
Cece - 0432 893 598 | ceciliazhou893@gmail.com

Reception :
Katie - 0451 304 017 | miaoyunn97@gmail.com

Marketing :
Jo Shua - 0410 469 958 | jo.shua.ooi1001@gmail.com

Program Master :
Ricco - 0410 968 243 | yudha.ricco@gmail.com

Technician :
Tuspol - 0487 708 381 | tusza005@gmail.com

Security :
Marco - 0431 485 746 | marcotang104@gmail.com

Archive :
Tommy - 0430 916 919 | tommy-leow@hotmail.com
Leighton Hall, John Niland Scientia Building, UNSW
Exhibition: 23rd - 27th April 2017 (Closed on 25th April 2017 due to Anzac Day)
Opening Ceremony: 24th April 2017
09.30am - 04.00pm
FREE ENTRY!
Harry 0452 646 414 | harrylim94@gmail.com
Jo Shua - 0410 469 958 | jo.shua.ooi1001@gmail.com
Songkran Festival
Non-UNIBUDS Event
Need a little break from study on the weekend but don't know what to do? UNIBUDS is organising a trip for our next activity, Songkran, at one of our patron monasteries, Wat Pa Buddharangsee!
Songkran, also known as Thailand Water Festival, is the most important festival for Thai people which is celebrated as the traditional Thai New Year. Thai people sprinkle water to show respect to the elders including family members, friends, neighbours, and monks. Here, we will be having a series of activities, such as chanting, blessing, short sermon, fund raising Food Fete, South East Asian traditional dances and more!
Besides enjoying the festival, we will also be volunteering by helping out the monastery with food collecting from food offering and packing up.
Remember to register before the 8th April by contacting or emailing Tommy. Hope to see you for Songkran!
What to bring:
water bottle
spare clothes
towel
sun lotion
sunglasses
Event Venue: Wat Pa Buddharangsee, Leumeah NSW
Meeting Place: UNSW Main Walkway
Sunday, 9th April 2017
Event Time: 07.00am - 04.30pm
Meeting Time: 06.45am
Just your busfare!
Tommy - 0430 916 919 | activities.unibuds@gmail.com
Meditation Workshop - Breathing Meditation
UNIBUDS Quaterly Meditation workshop
Rod Lee
First of all, I hope all of you are having a great start at university! Assignment deadlines, quizzes or even mid-semester exams might be haunting you already, but you don't have to worry as long as you manage your time well. A clear and relaxed state of mind is essential to perform well in university or even in our daily life and that can be acquired by learning how to meditate!
This first workshop of the year introduces the basic form of meditation which is perfect for beginners and those who want to practice meditation in their daily routine. The workshop will include an introduction to Breathing Meditation with guided sessions and discussions. The speaker for this workshop is an inspiring and encouraging example of how meditation has shaped one's lifestyle. So come along and we shall learn it together!
Kindly RSVP so we can confirm the number of attendees and accommodate all. Thank you!
Speaker's Profile:
Rod Lee is the director of the Tibetan Buddhist Society. He has been practicing Buddhism since 1978 and has been teaching Buddhism for over 20 years. He was a disciple of Venerable Geshe Loden. Rod has a company called Working Balance which teaches meditation and mindfulness to business people. He teaches Tai Chi and is a Shiatsu massage therapist. He also provides stress management counselling for individuals using Buddhist perspectives.
| | |
| --- | --- |
| | Room 203, Level 2 of Law Library |
| | Saturday, 1st April 2017 |
| | 10.00am - 1.00pm |
| | Ricco - 0410 968 243 | meditation.unibuds@gmail.com |
Potluck
UNIBUDS Activity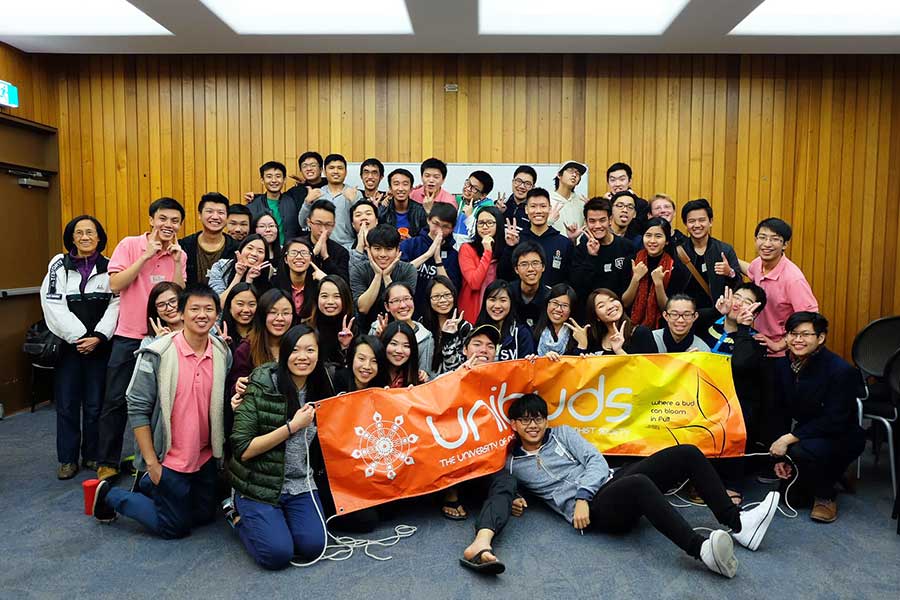 How's first semester going for you? Are you overloaded with work? Feeling stressed? Or simply just nailing everything that's coming your way? One way or another, everyone deserves a break! That's why we're bringing you the first ever Potluck of the year!
So what is Potluck? Is it a pot? Is it luck? Its neither (maybe pot :p)! Potluck is a social event where everyone brings a dish to be shared. This is a great opportunity for everyone to just gather around, make some friends, grab some food and have some fun! Good news for loners as you say bye-bye to eating alone! Also, for those who love to cook, feel free to do so and bring along your best dishes (note that they don't have to be vegetarian). For those who are just too shy to show off your cooking skills (for now), you're still more than welcome to join us for the night! Besides having food and playing games, we will be introducing our upcoming Buddhist Exhibition (spoiler alert!). This is a one week event where you will have a chance to have a close-up look on various Buddhist artefacts and learn the Dhamma. Sounds interesting? Come along to find out more!
As usual, we're aiming to have a variety of food for everyone to enjoy, so do let us know if you're planning to bring anything over to share with everyone. We hope to see all of you there, and please do get your friends to tag along, because the more the merrier!
The Lodge, Level 3 of Squarehouse
Saturday, 25th March 2017
6.45pm - 9.45pm
Just your busfare! You are more than welcomed to bring a dish to share with other. Otherwise, just your empty stomach!
Jo Shua - 0410 469 958 | jo.shua.ooi1001@gmail.com
Cece - 0432 893 598 | ceciliazhou893@gmail.com
O-PICNIC
UNIBUDS Annual Activity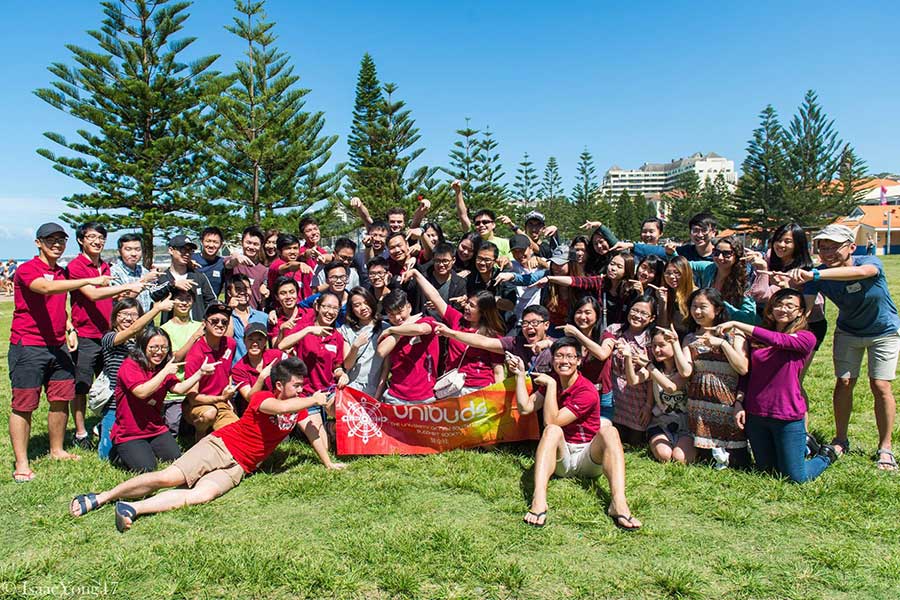 Hope you're enjoying your new life in uni! Are you looking for new friends? Hoping to meet that special someone? ;) Or just struck by random food cravings?
Well, it must be your lucky day! UNIBUDS will be hosting a BBQ to welcome all new members into our big Dhamma family. Let's hope for lots of sunshine because it will be packed with friends, food and fun!
The great catch? It's all free! :D So bring your friends, your empty stomachs and lots and lots of enthusiasm, because we simply can't wait to meet all of you!
Coogee Beach (BBQ pit opposite McDonalds)**
Saturday, 11th March 2017
10.30am - 1.30pm
Just your OPAL Card! Food & entertainment are provided!
Joseph - 0404 375 640 | yeohzijing@gmail.com
Katie - 0451 304 017 | miaoyunn97@gmail.com
O-Week Stall
UNIBUDS BI-Annual Activity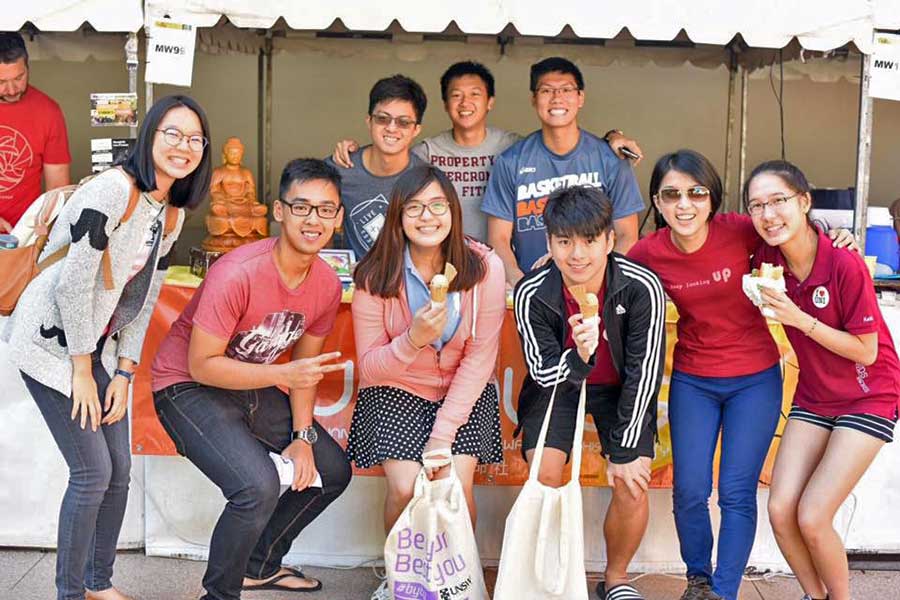 O-Week is just around the corner! UNIBUDS will be setting up our stall to invite all of you to our big UNIBUDS family and also to renew memberships for those who have been around for the past year(s).
UNIBUDS is the place for you to learn more about Buddhism and practice the teachings of the Buddha along with lifelong spiritual friends! We have a lot of activities planned out for you throughout the year such as weekly Dhamma talks, free food night (erm.. I mean Potlucks!), our upcoming Buddhist Exhibition at the end of April and annual Bodhi Nite!
For previous members, our membership only lasts for a year so don't forget to renew them!
All of you are welcome to hang out at our stall during O-week to have a c
O-Week - Infront of Main Library
27th February - 3rd March 2017
10.00am - 4.00pm
Fu Xiu - 0415 768 888 | hengfuxiu@gmail.com
Marco - 0431 485 746 | marcotang104@gmail.com
Alvin - 0424 751 348 | alvinnc54@gmail.com
For those who want to know more about our society, don't hesitate to contact us! Hope to see you there!