Indoor Rock Climbing
UNIBUDS Social ActivitY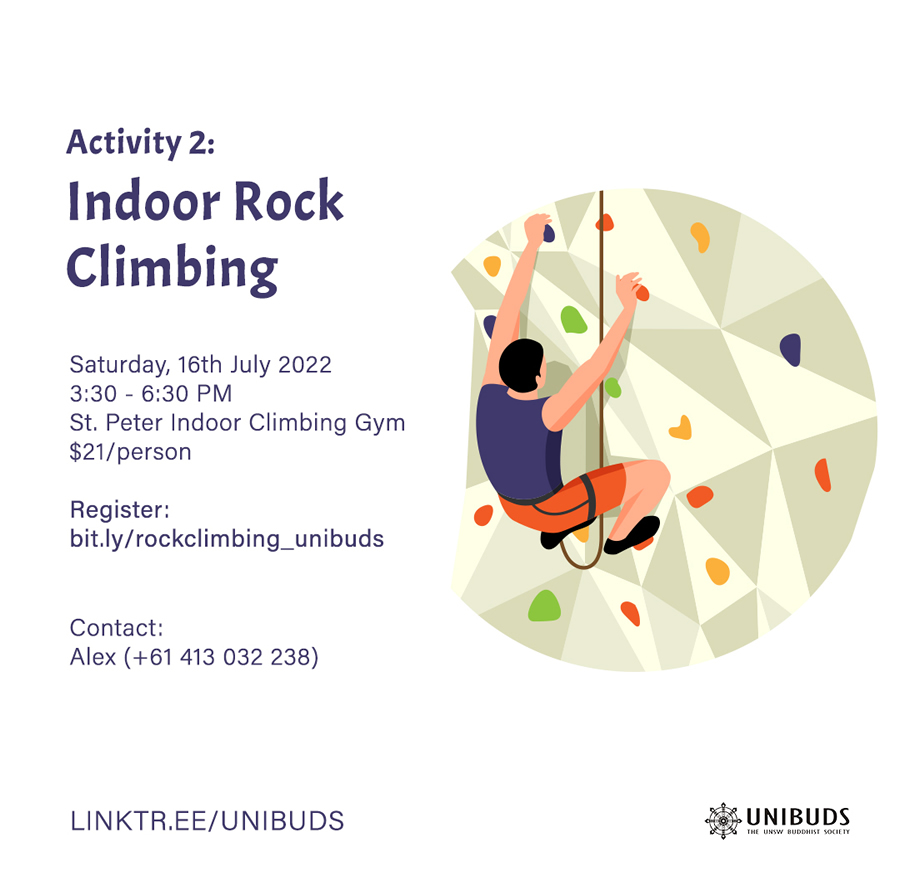 Hope that everyone has enjoyed their flexi week and is fully recharged! If you have missed out some fun during flexi week, fear not as UNIBUDS has planned something fun and exciting just for you! Come and join us for a rock climbing session at St Peters Indoor Climbing Gym on the 23rd of July!
From the different difficulty levels of climbs, we can challenge ourselves to step out of our comfort zones, overcome our fear of heights, and improve our mental and physical health through a workout.
Don't miss out on this exciting activity if you are keen for some challenges, and to have fun whilst surrounding yourself with enthusiastic people and new friends. We hope to see you there!!!
PLEASE REGISTER HERE
Please read, sign and print the waiver liability form (only the first page is needed) provided by Sydney Indoor Climbing Gym and bring it on the day
What to wear : Running shoes, sports clothing (no skirts, dresses or thongs)
Meeting points :
1. Meet at UNSW Anzac Parade Light Rail Station (2.30pm - 3:00pm)
2. Central station eddy avenue stand A (2.30pm - 3:00pm)
3. Mascot Train Station (2.45pm - 3:15pm)
4. St Peter Indoor Climbing Gym (3.30pm)
| | |
| --- | --- |
| | St Peter's Indoor Climbing Gym |
| | Saturday, 23rd July 2022 |
| | 3.30pm - 6.30pm |
| | $21 per person (harness hire included) → group rate |
| | Alex - 0413 032 238 |
Meditation Workshop 3
UNIBUDS Meditation workshop
Sayadaw U Paññathami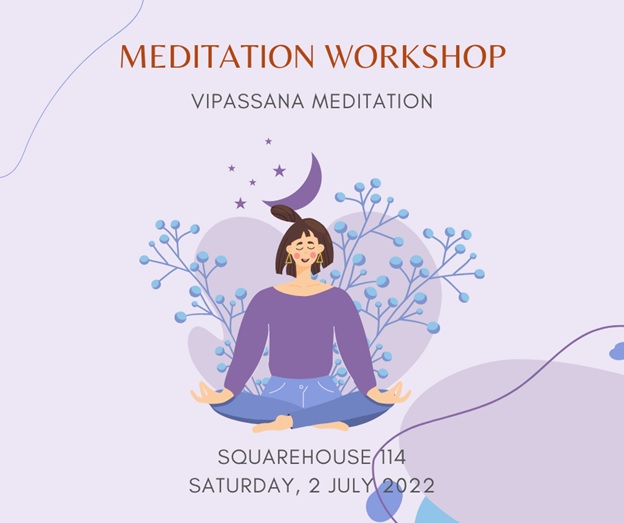 Time flies and it is already the middle of Term 2, we hope that everyone is coping well with their studies! A few weeks after our past meditation workshop, we are having our upcoming meditation workshop again on 2nd July 2022 (Saturday)! It can be stressful at this time when your assignments and quizzes are happening soon. Don't be too stress because you could always come to our meditation workshop to help clear your mind and destress!
The topic for this workshop is Vipassana Meditation which we will be exploring another different method of meditation. We are very honoured to have Sayadaw U Paññathami to guide us in this workshop so don't miss out the chance to learn and ask questions while Sayadaw is here to guide us!
Squarehouse 114, UNSW

LIVE STREAMING - LINK HERE
Saturday, 2nd July 2022
3.00pm - 5.00pm
Free
Rudy - 0432 802 118
Hong Xuen - 0481 248 276
meditation.unibuds@gmail.com
Potluck 2
UNIBUDS Social Activity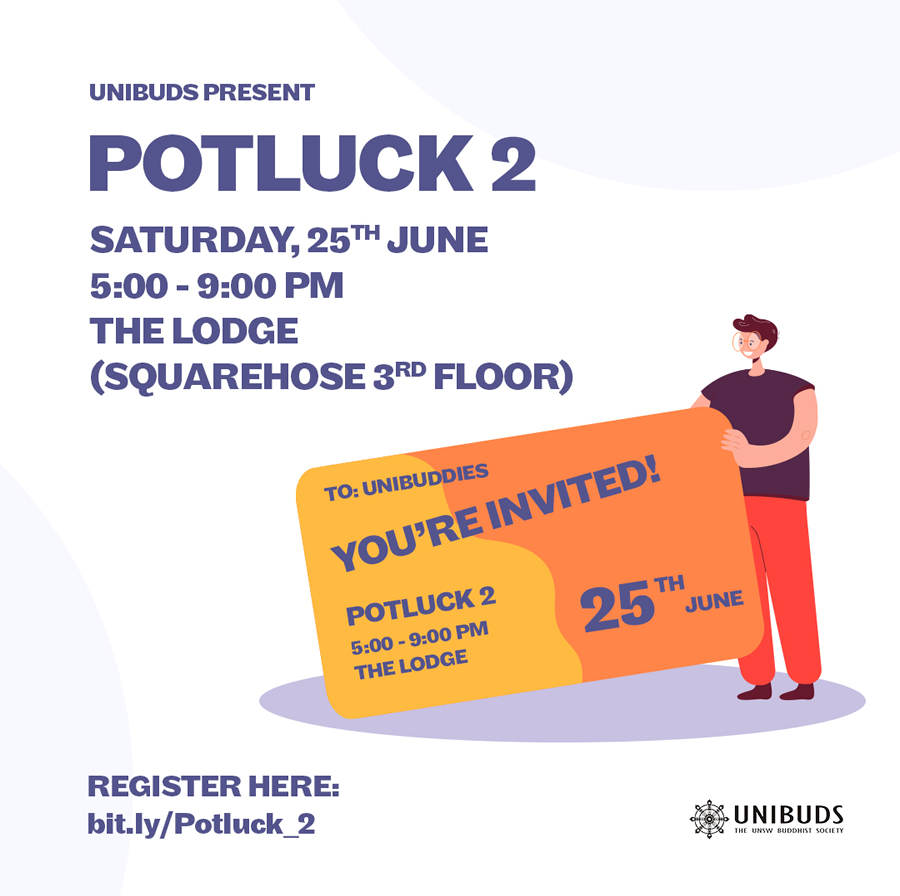 On Saturday 25th of June, UNIBUDS will be holding our second POTLUCK at the Lodge on campus from 5.00 pm - 9.00 pm. If you like to cook or bake vegetarian dish, please feel free to bring along! But if you are not a person who like to cook or bake, you are still more than welcome to join us.
Come join us and bring your friends along too! Look forward to ice-breaking games, Art of the year(drawing sesh), yummy food and making new friends!
Sign up for the event with this link now!
The Lodge, UNSW
Saturday, 25th June 2022
5.00pm - 9.00pm
FREE
Felicia - 0473 898 209
Wen Jeng - 0432 852 043
Autumn Retreat
UNIBUDS Social Activity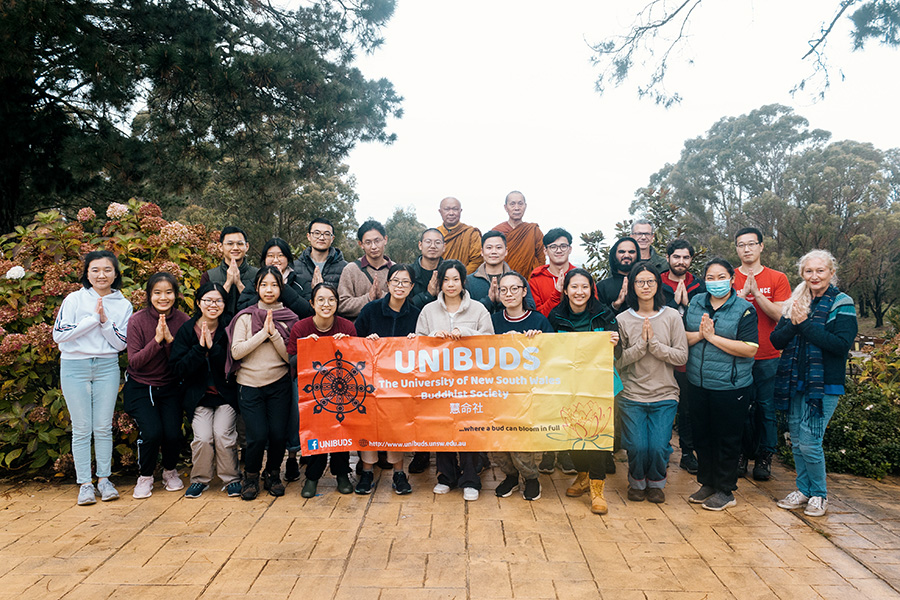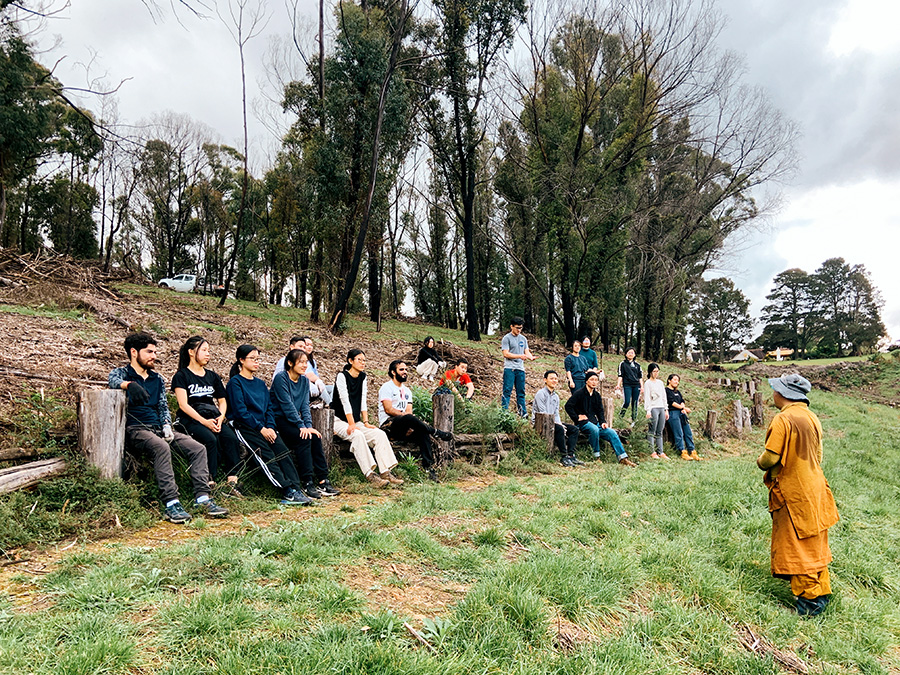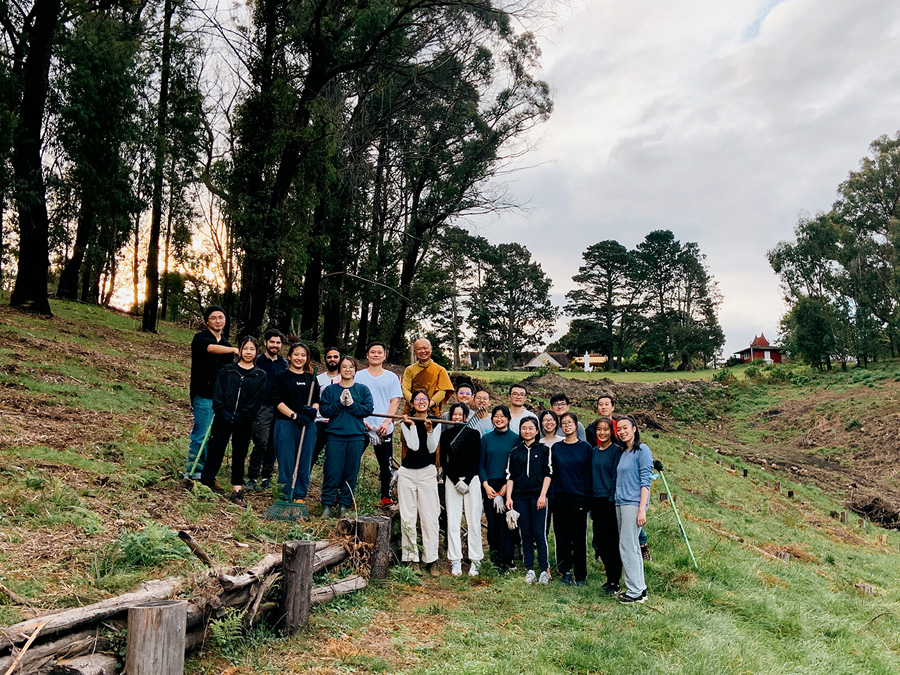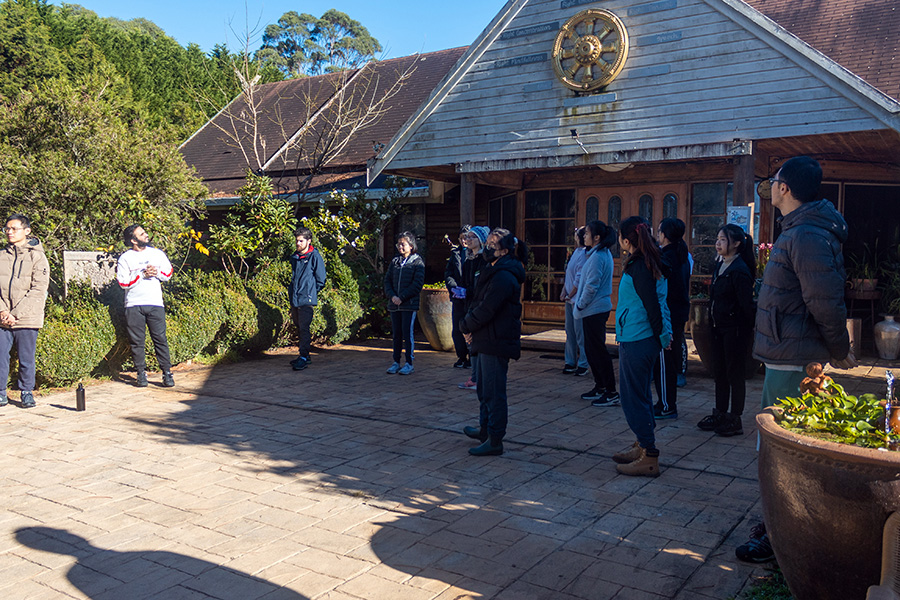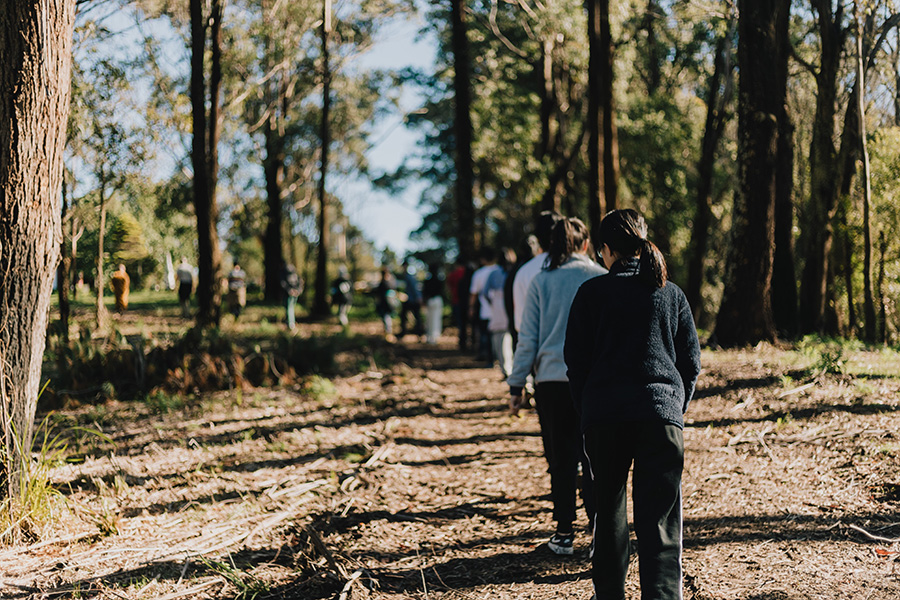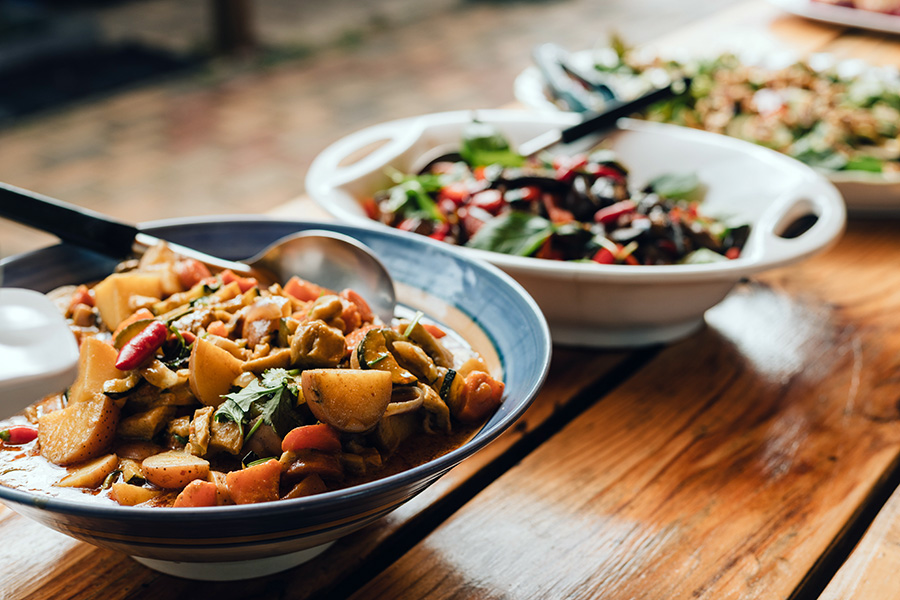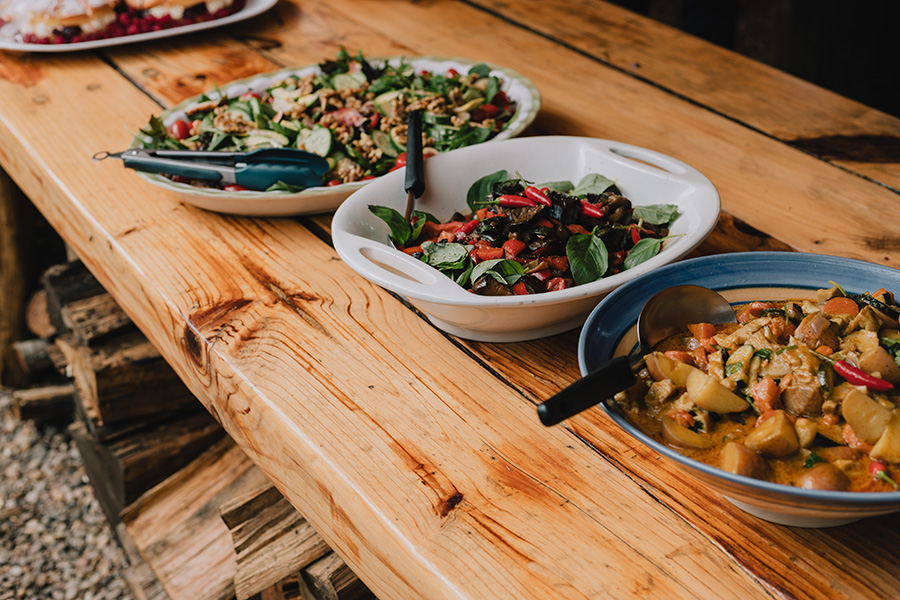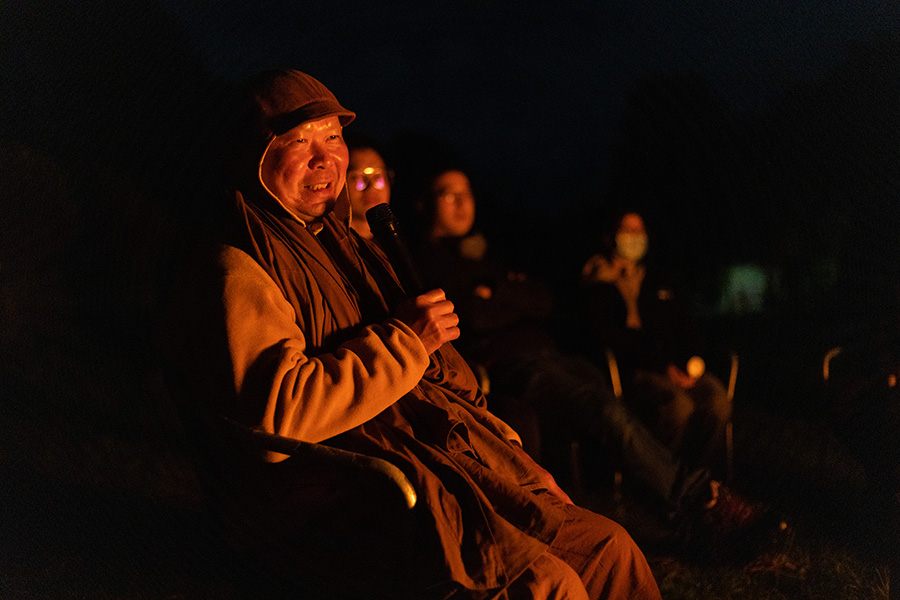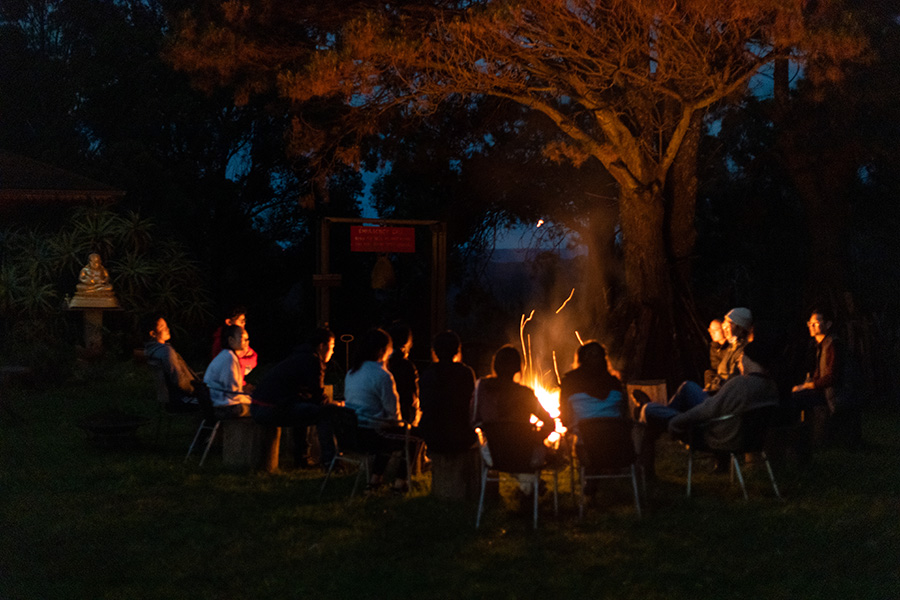 YES, our Autumn Retreat 2022 is back!! This year, we will be having our Autumn Retreat at Sunnataram Forest Monastery during the term break. It is going to be a 3-day-2-night retreat and it will be a great opportunity for you to develop a peaceful and calm mind while experiencing a peaceful monastic life in the quietude of Bundanoon. So don't miss this opportunity to experience the retreat and learn more about the Dhamma!
What will we be doing?
Under the guidance of Phra Mana Viriyarampo, the abbot of Sunnataram Forest Monastery, we will be learning about different types of meditation, touching upon the meanings of the Dhamma and practice Buddhist teachings in real-life simulations through discussions. When night comes, let us huddle in the warmth of each other's company and admire the constellations above the night sky.
What if I'm not a student, UNIBUDS member or a full-on Buddhist?
All are welcome! The retreat - and the Monastery itself - receives all beyond its gates and into the light of Buddhism. However, due to regulated restrictions, UNIBUDS members will be prioritised, and a first-come-first-serve basis applies. So do register soon to ensure you don't miss out on this opportunity!! As a sign of respect to the Monastery, participants must attend the full retreat which goes for 3 days and 2 nights.
How can I register?
Please register online by clicking HERE!
What to bring:
Details will be provided in the confirmation email and information pack once you register!
Note: there will be a $10 registration deposit, which will be refunded after the retreat. This is to minimise any inconvenience to the monastery caused by participants pulling out at the last minute. It will also allow us to have a good estimate of the number of participants for the retreat to proceed as smoothly as possible. Thank you for your understanding
If you would like to know more about the Sunnataram Monastery, please visit their official website by clicking the link below: https://www.sunnataram.org/
Sunnataram Forest Monastery (Transportation arrangement is stated in the registration form)
Friday - Sunday, 13th May 2022 - 15th May 2022
Food and accommodation are generously provided by the Monastery, but donations to the Monastery are most welcome.
Chris - 0498 179 241
Louie - 0403 270 100
Wen Jeng - 0432 852 043
unibuds@gmail.com
Mini Buddhism Fair

Theme: The Four Immeasurables
UNIBUDS Social Activity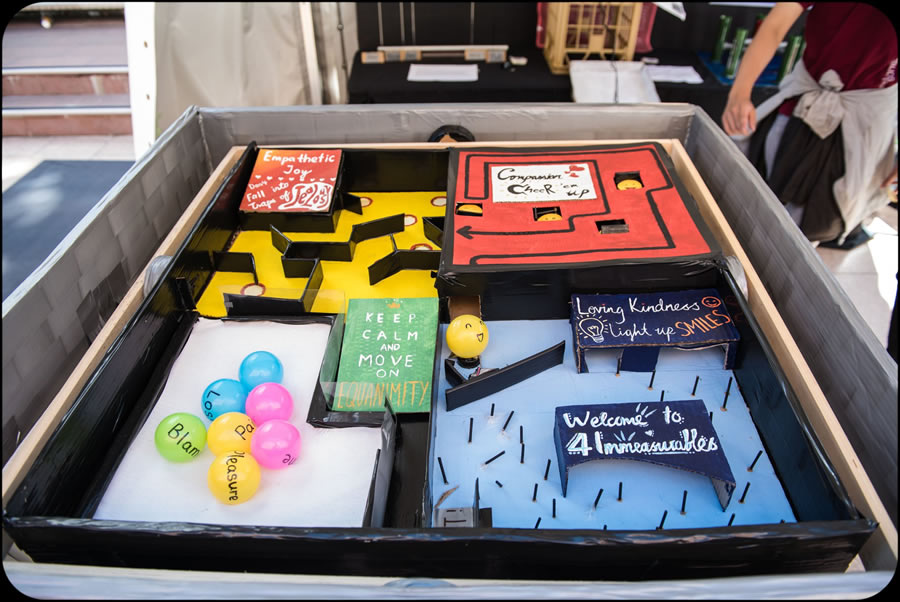 Feeling stressed with your endless quizzes and submissions? UNIBUDS has your back by presenting to you Mini Buddhism Fair!
Being our first big scale event of the year, we are very excited to bring you all activities we have prepared for the end of Week 7. As you stroll along the Main Library walkway, be sure to look out for our stalls filled with exhibits, games, and wonderful decorations that'll make your jaw drop.
If that wasn't enough reason to check us out, we also have some cool gifts to give away just by visiting some of our stalls; or check us out at mid-day as we have packed a special surprise for all of you.
For more information, follow our UNIBUDS page on Facebook or send us an email. We'll be more than happy to assist you.
Main Library Walkway
Thursday - Friday, 31st March 2022 - 1st April 2022
10.00am - 4.00pm
FREE
Hong Xuen - 0481 248 276 | hongxuen00@gmail.com
Jun Wen - 0412 939 932 | jacktang97@gmail.com
Potluck 1
UNIBUDS Social Activity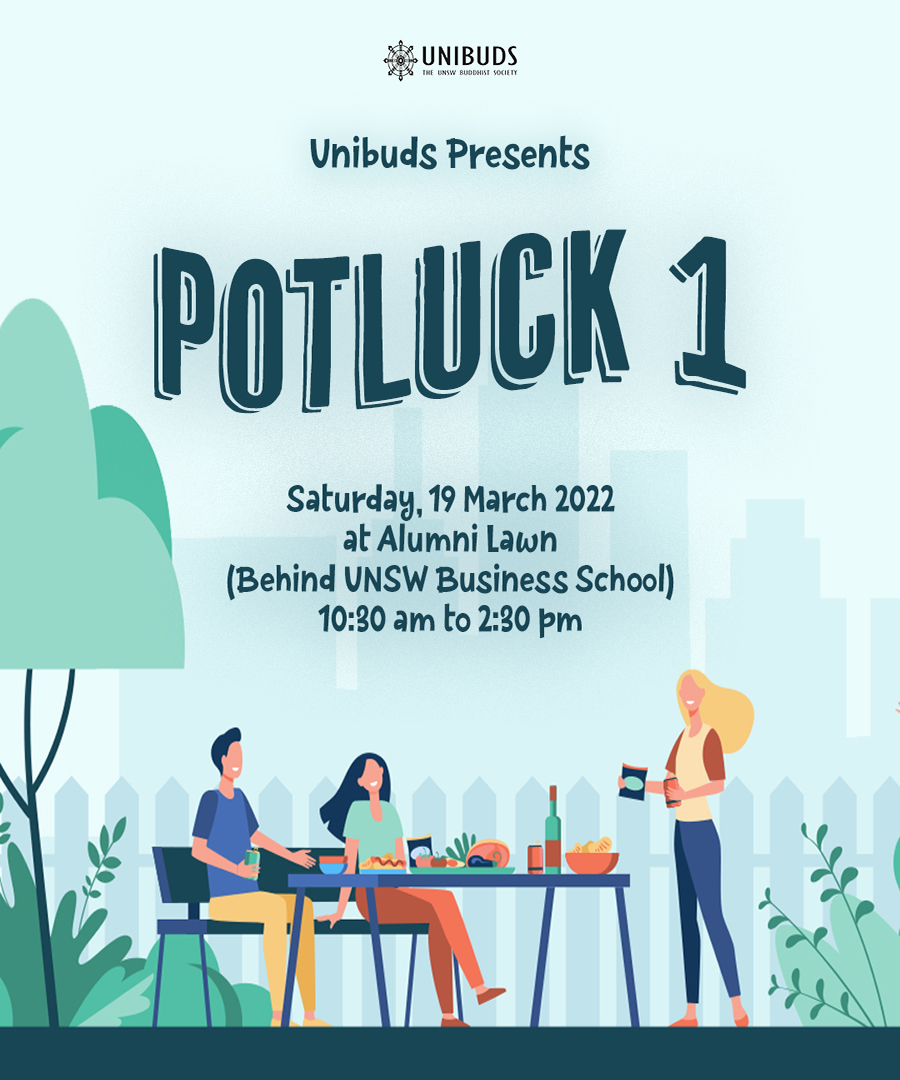 It's the end of week 5, are you feeling stressed from uni workload? Or are you top of your game? Either way, you deserve a break, which is why we're bringing you our very first Potluck of the year!
Come along and join us on a mid- Saturday potluck sesh ! If you are person who loves to cook or bake (honestly, you have landed on the right place), feel free to bring a dish along (please note that it must be a vegetarian dish). Those who are shy to show-off their cooking skills are still very welcome to join us.
So come along, bring your friends, and revel with us in a feast and some fun games! See you there! Due to COVID restrictions, it is strongly recommended to wear a mask on that day.
Sign up for the trip with this link now!
Alumni Lawn
Saturday, 19th March 2022
10.30am - 2.30pm
FREE
Xiu Wen - 0492 806 196
Yang - 0410 250 777
Blue Mountain Trip
UNIBUDS Social Activity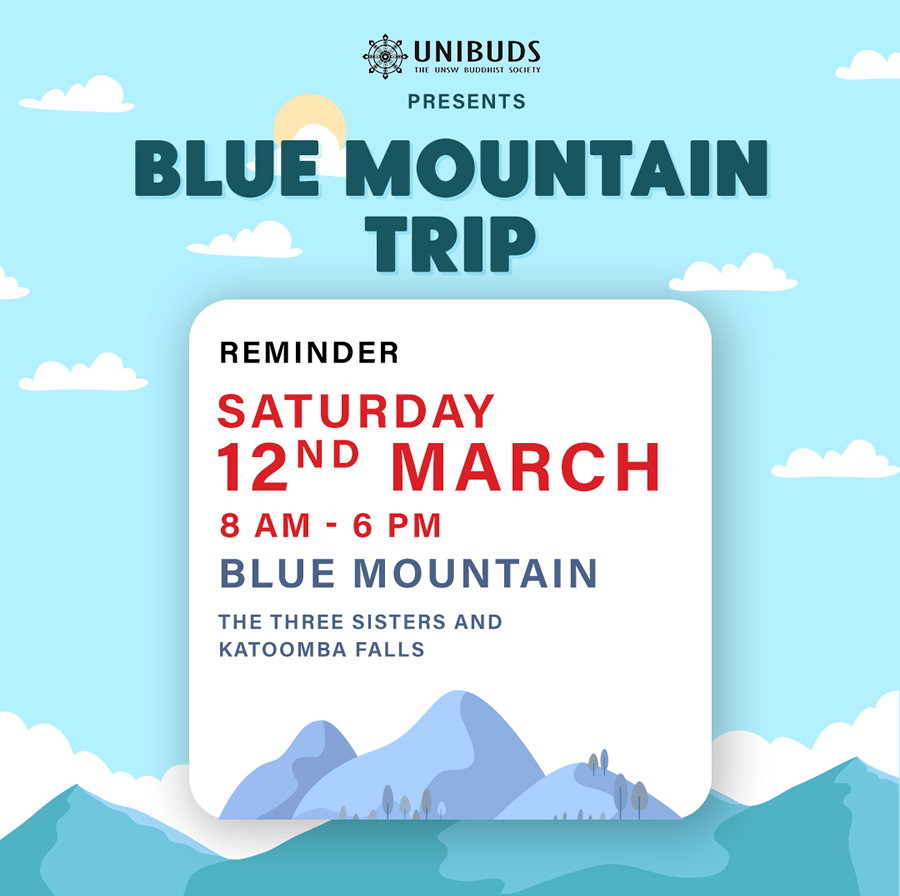 Now that the pandemic and restrictions have eased, it is time to go out for outdoor activity! This is the first in-person outdoor trip with UNIBUDS after nearly 2 years! It is also a chance for you to make new friends and meet all of UNIBUDS executives who are arguably the friendliest human beings you can ever find at UNSW
So what are you waiting for? Come and join us!
Sign up for the trip with this link now!
| | |
| --- | --- |
| | Event Location: Blue Mountain |
| | Saturday, 12th March 2022 |
| | Event time: 8.00am - 6.00pm |
| | There are no fees other than travel and food expenses. As there is a $8.05 travel cap applied to Opal Cards on Sunday, you are highly recommended to bring an Opal Card instead of using other methods of payment. |
| | Alex - 0413 032 238 |
Meditation Workshop 2
UNIBUDS Meditation workshop
Rod Lee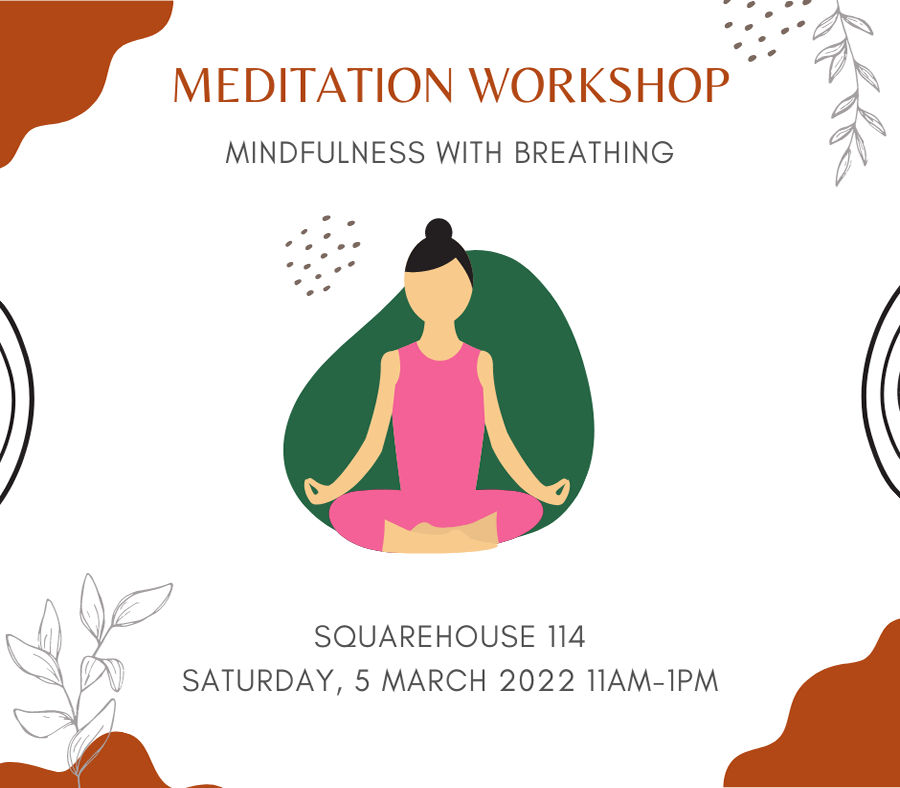 Hope you all are coping well with the start of the new term. It can get kind of overwhelming and restless at times, but don't fret because meditation is here to help clear and ease your mind. We're excited to have our first meditation workshop of the year and would love to have you join us!
The topic for this workshop is Mindfulness with Breathing and will be guided by our speaker Rod Lee. This simple practice in conjunction with the teachings of Buddhism is also used by psychology experts to help improve one's wellbeing. You will also have the opportunity to clarify any confusions you may have about meditation.
Come join us for an informative, interactive and fun workshop! Looking forward to seeing you there!
Squarehouse 114, UNSW

LIVE STREAMING - LINK HERE
Saturday, 5th March 2022
11.00am - 1.00pm
Free
Rudy - 0432 802 118 | meditation.unibuds@gmail.com
O-PICNIC
UNIBUDS Annual Activity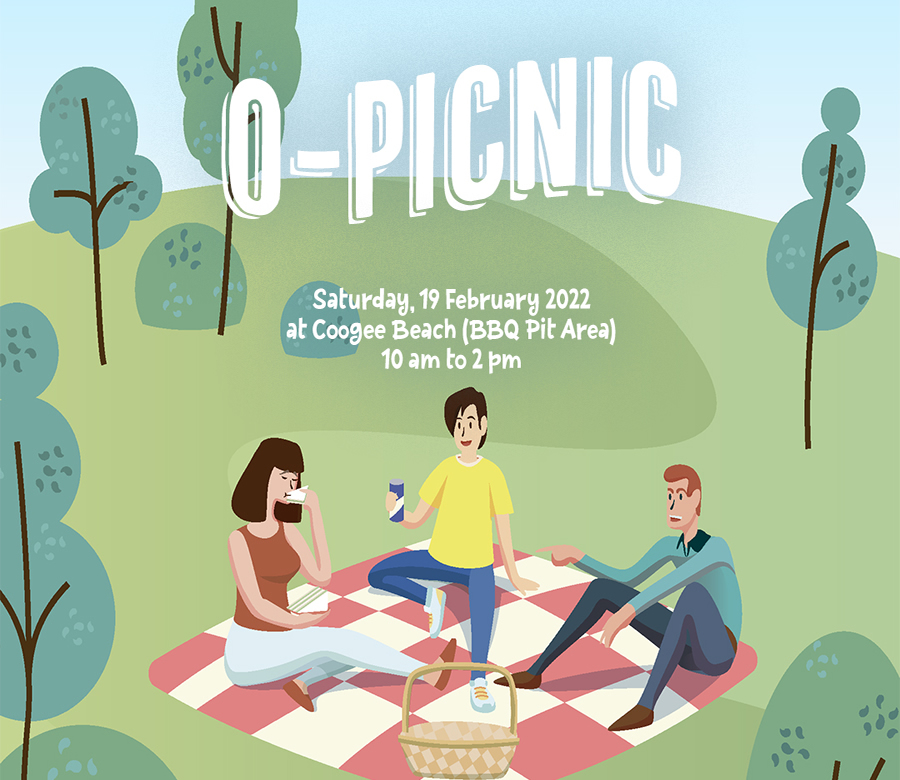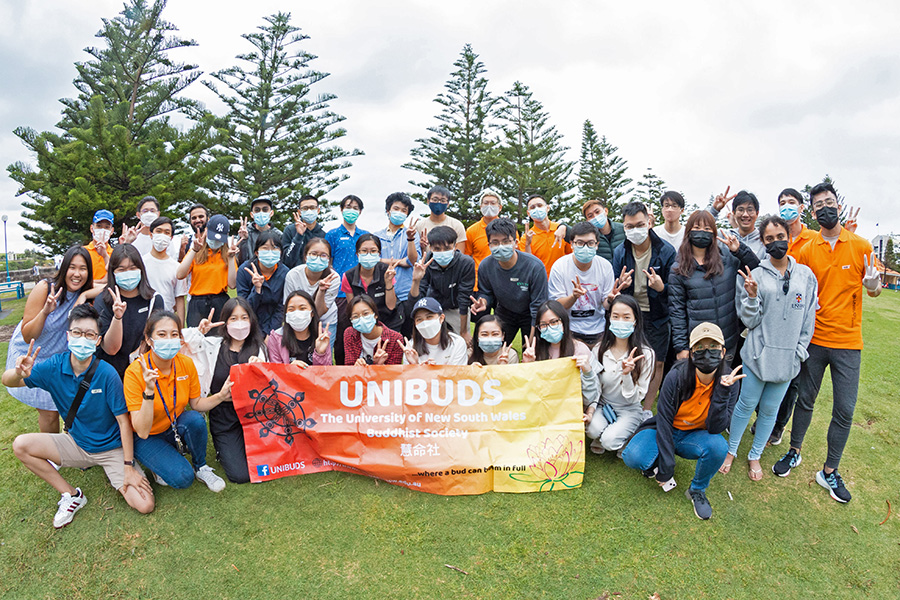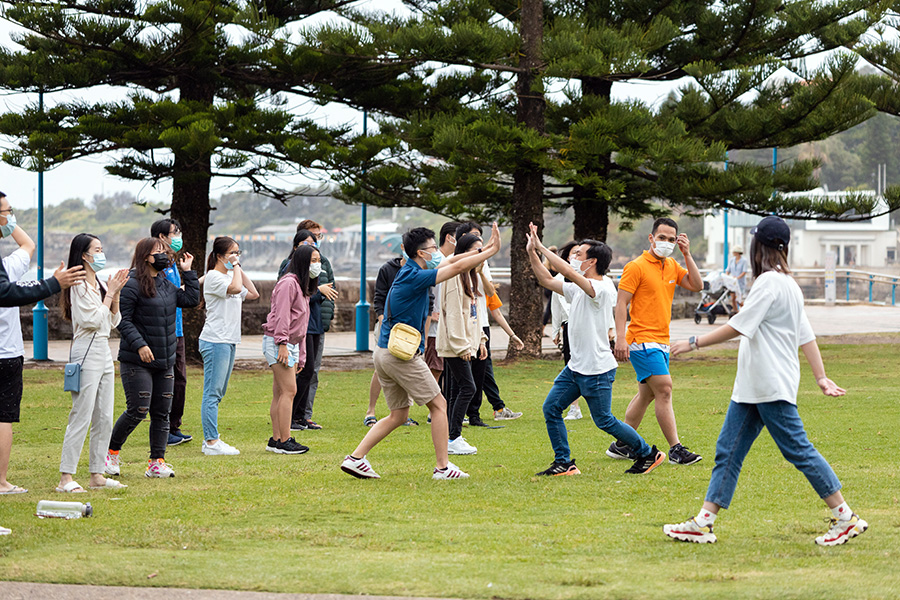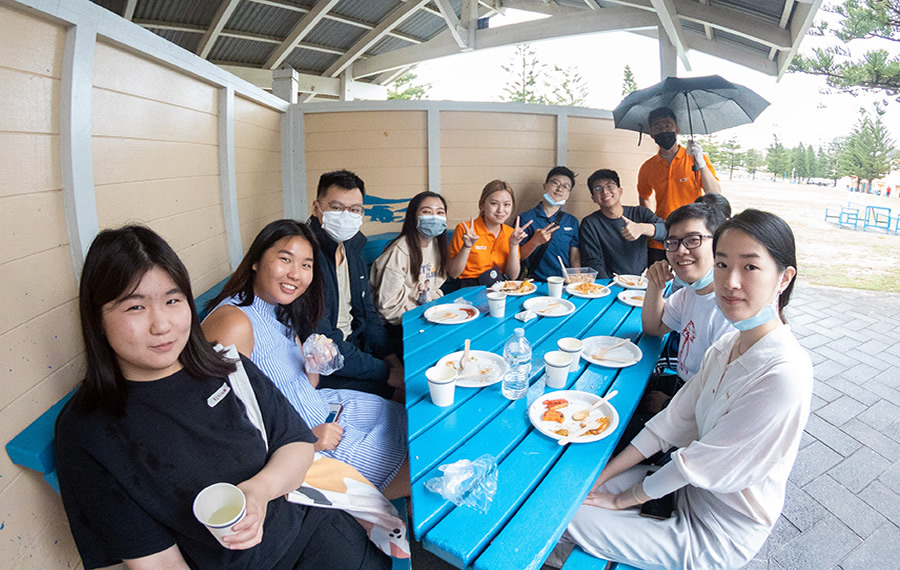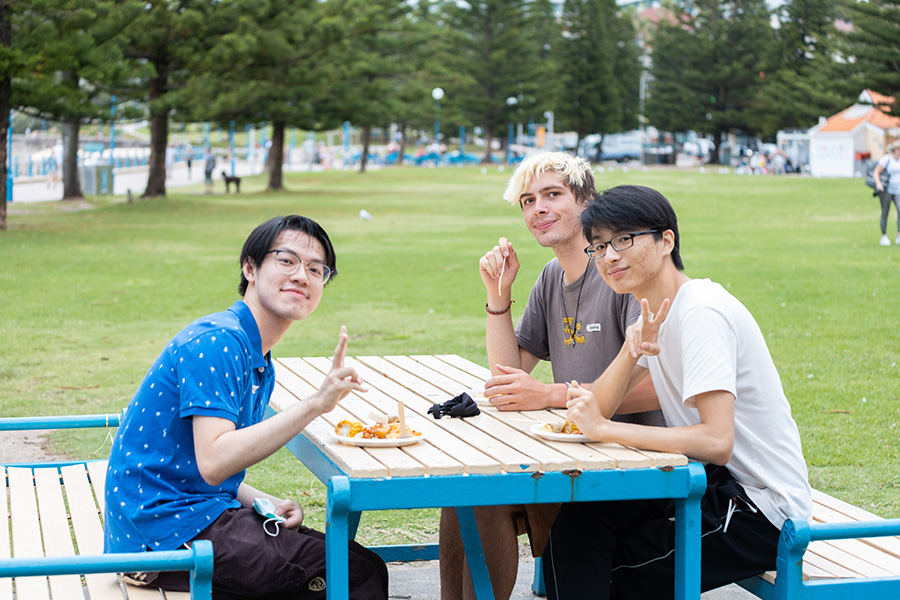 Do you like FREE FOOD?
Do you like FUN GAMES?
Do you like THE BEACH?
Do you like MAKING FRIENDS?
If you answered yes to any of the above, then you don't want to miss our first of the year, O-Picnic!
There will be plenty of fun and exciting games, delicious homemade dishes, and the most friendly people to enjoy the day with. This will the perfect opportunity to meet others in a relaxed environment where the only expectation is that you have fun.
Especially if you are a first-year or new to UNIBUDS, this event is perfect for you to make great friends and to experience what we are all about.
We can't wait to meet all of you!
Please fill in the form here if you are coming to O-Picnic so we know where to meet you!
Event Location: Coogee Beach

Meeting Location 1: UNSW High Street Lightrail Station at 9:15am
Meeting Location 2: Mascot Central at 9:00am
Coogee Beach (BBQ Pit Area) at 10:00am
Saturday, 19 February 2021
Event time: 10.00am - 2.00pm
Just your transport FARE! Food & entertainment are provided!
Danny - 0406 980 212
Alex - 0413 032 238
activities.unibuds@gmail.com
Introductory Meditation Workshop
UNIBUDS Meditation workshop
Venerable Neng Rong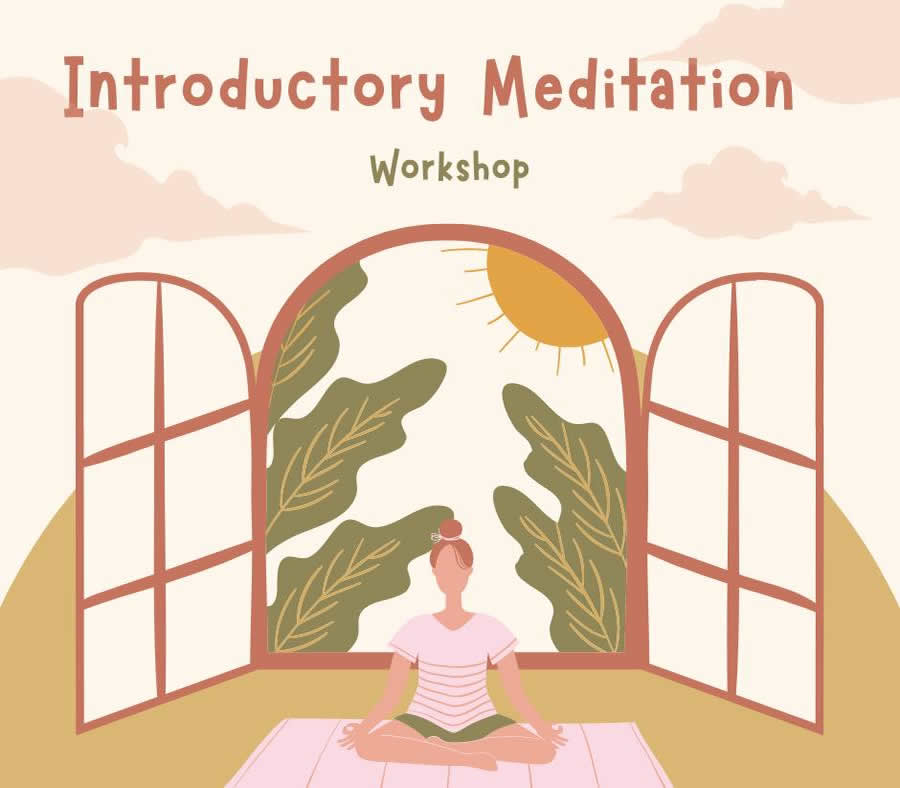 To kick start a great term and year, UNIBUDS cordially invite all members to our O-Week Meditation Workshop — Introduction to Meditation!
Some topics we will explore include Loving Kindness Meditation and Mindful Breathing. Come and discover the Buddhist approach to meditation and be fascinated by the calming and peaceful effects it has on the body and mind. With the guidance of our Buddhist Chaplain, Venerable Neng Rong, you will learn how to use meditation techniques to calm your thoughts and concentrate your mind on the present moment.
This introductory workshop is suitable for everyone, with or without previous meditation experience. Come as you are, bring your friends and enjoy the benefits of Buddhist meditation!
NSW Squarehouse 114, UNSW
LIVE STREAMING - LINK HERE
Wednesday, 9th February 2022
1.00pm - 2.00pm
Free
Rudy - 0432 802 118 | meditation.unibuds@gmail.com
O-Week Stall
UNIBUDS BI-Annual Activity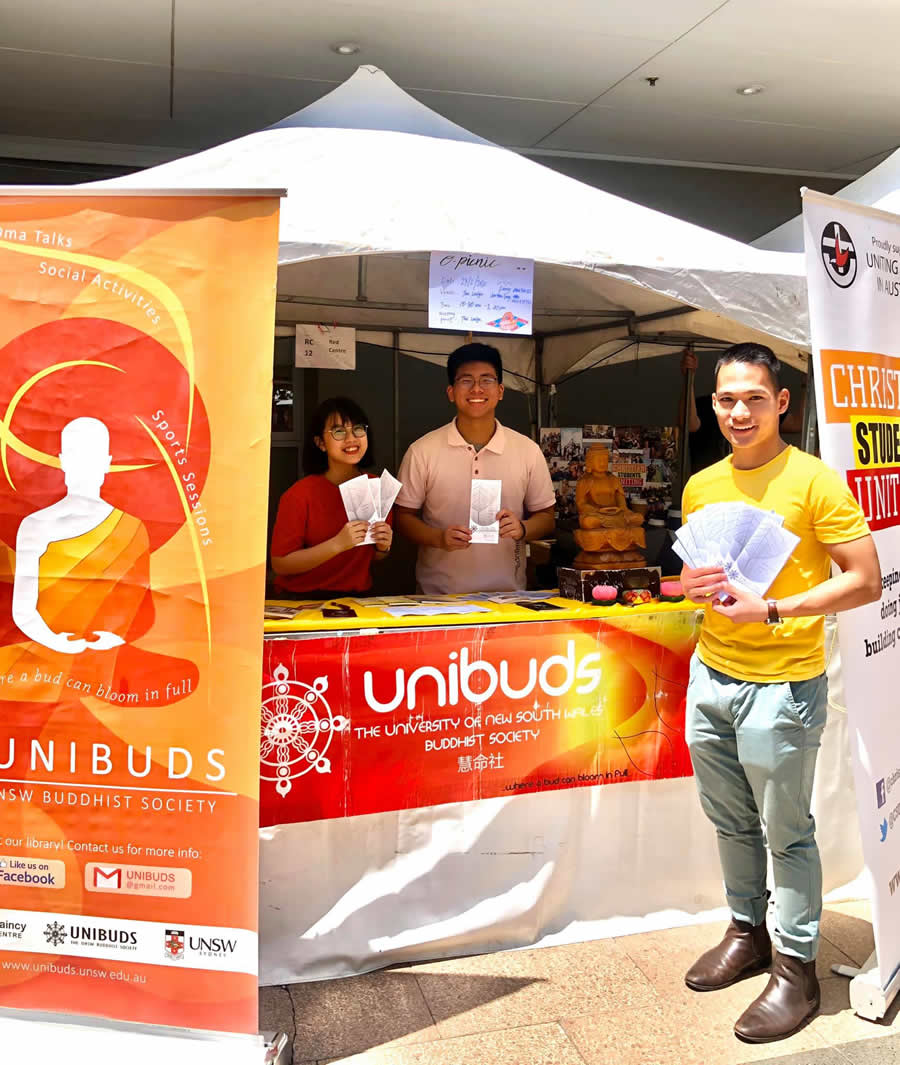 A warm welcome to UNSW! Wooo! Hope we've all had a restful break and are ready to begin the year!
As you may have heard from a little birdy, O-week is on its way and that means an opportunity to renew your membership, meet some new friends and check out the awesome UNIBUDS events in 2022. Our O-Week team is returning to campus and we can't wait to meet all of you.
The UNIBUDS stall will be located at the Mid to Upper Walkway from Monday to Tuesday (7 - 8/2/2022) between 10am-4pm. You can check-in via Gate 15 from Barker Street. If you can't catch us on these days, we'll also be in Squarehouse 114 on Wednesday (9/2/2022) between 10am-4pm. Come to renew your membership and stay for our Introductory Meditation Workshop from 1 to 2pm.
Our team will also be in Law Building G17 on Thursday and Friday (10-11/2/2022) between 10am-4pm. We wouldn't want you to miss out on amazing, limited-edition membership gifts as well as fantastic freebies. You can contact any of the organisers or our socials below.
Whether you have questions about Buddhism, wondering about the different UNIBUDS events or just like a chat to our friendly and enthusiastic team, we are here to answer all of your queries. Don't be shy, we are only a "hello" away
O-Week - Mon 07/02/2022 : Mid to Upper Walkway Stall
O-Week - Tue 08/02/2022 : Mid to Upper Walkway Stall
O-Week - Thu 10/02/2022 : Law Building G17
O-Week - Fri 11/02/2022 : Law Building G17

Week 1 Mon-Fri 14-18/02/2022 : Outside Main Library

O-Week: Monday, 7th February 2022 - Friday, 11th February 2022
Week 1: Monday, 14th February 2021 - Friday, 18th February 2021
9.00am - 4.00pm
Binh - 0452 505 290
Felicia - 0473 898 209
Rudy 0432 802 118
For those who want to know more about our society, don't hesitate to contact us! Hope to see you there!