UNIBUDS Library
Opening hours:
Monday - Friday
12.00pm - 2.00pm
Person in-charge:
Edlin Prajnajaya - edlin.prajnajaya@yahoo.com
For any information, enquries, and suggestion on UNIBUDS Library, please contact Edlin.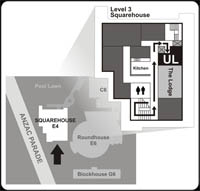 37th Executive Committee [2016-2017]
Who is who?
President's Message
Oh how time flies! Another year has already passed and along with the new team of Executive Committees, we are embarking on a whole new journey. My name is Harry and it is a great honour to be able to serve UNIBUDS as the 37th term President. I hope UNIBUDS will enjoy another meaningful and fruitful year.
UNIBUDS is now in its 37th year and without everyone's continuous support and contribution, we would not be at where we are today. I like to think of UNIBUDS as a plant. The light of the Dhamma shines on all of us, illuminating the way out of difficulties and suffering. Our patrons are the gardeners that prune and guide us to make sure that we grow on the right path. Our members form the very soil on which we're established, constantly providing us with nutrients, as we rely on their participation and talents to make events such as Bodhi Nite a success. We are also very lucky to have a large number of seniors who continually support us behind the scenes and form the roots that hold us upright. And last but not least, the EXCOs are the stalk that work hard to ensure that UNIBUDS continues to grow and flourish. Only when these causes and conditions fall into place can the bud then bloom in full!
I would like to express my sincere gratitude to our patrons, Venerable Tsang Hui and Venerable Phra Thepsilaporn (Chao Khun Samai), and also the UNSW Buddhist Chaplain, Venerable Neng Rong for their continuous guidance since the establishment of UNIBUDS in 1981. I would also like to express my deepest appreciation to the outgoing 36th Executive Committee for their effort in sharing the joy of the Dhamma within the university and off campus.
In UNIBUDS, we strive to create a warm and friendly atmosphere for all members. Despite being from different backgrounds, our passion to learn and spread the Dhamma binds all of us together.
On behalf of the 37th Executive Committee, I would like to thank everyone again for their continuous dedication and support towards UNIBUDS. With this joint effort, UNIBUDS will continue to bloom in full and pass on the light of wisdom to everyone around us.
With loving kindness,
Harry Lim
37th UNIBUDS President
Contact Us
UNIBUDS
Religious Center
Room 311, 3rd floor Squarehouse
Uni of New South Wales
Kensington NSW 2052
Australia
T: 9385 6082
e: unibuds@gmail.com